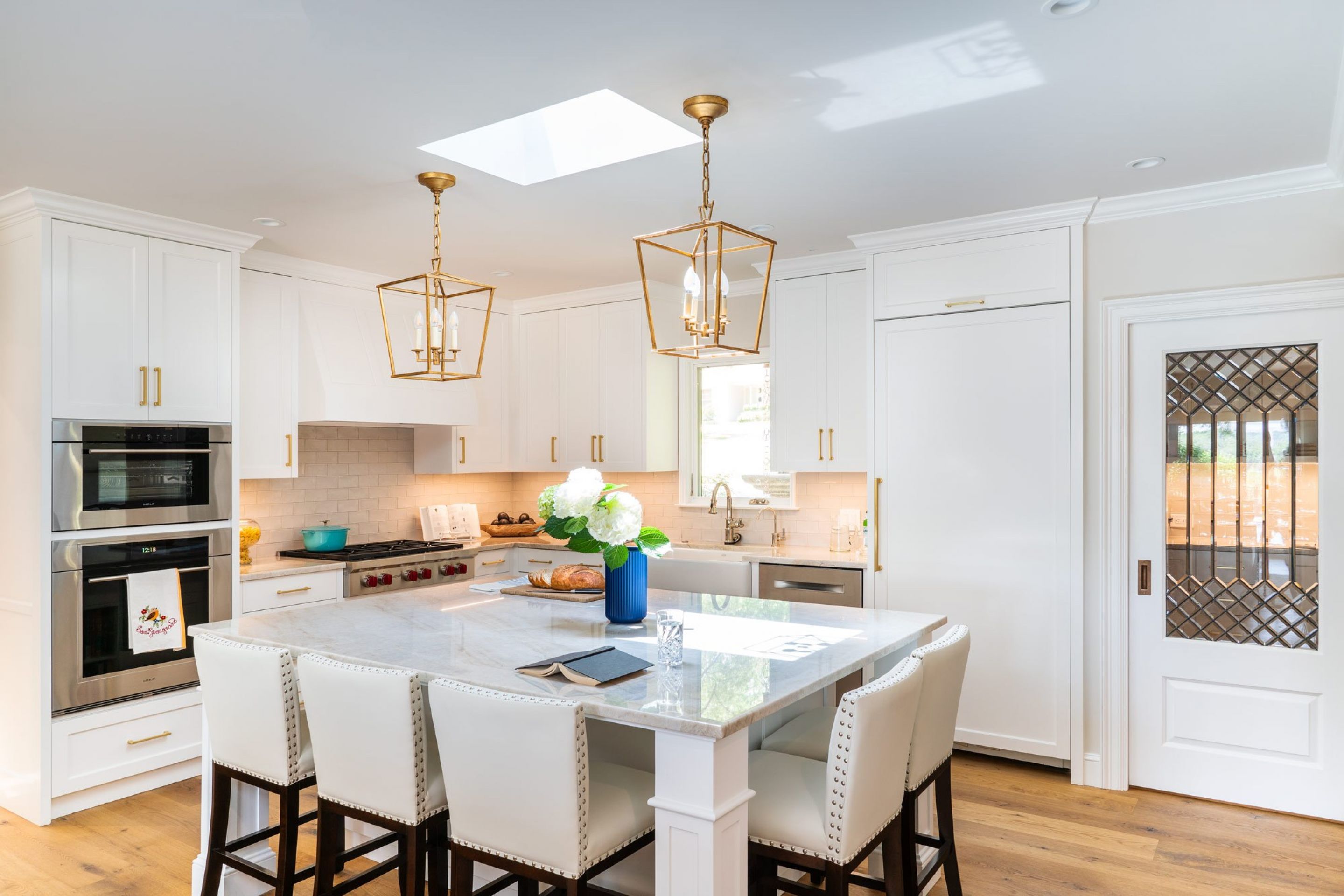 Interior rambling house clarified
You've got a lot of space, but you can't use it. That was the paradox at the heart of this home nestled in the folds of the Balcones escarpment. The house was deep and dark, with a lot of square footage and a low hung roofline. Its center was a dark square made up of an insufficient kitchen cut off from the living room by a wall. The arrangement meant that light came into the living room from only one direction through three French doors to the east. The living room had a fireplace, but the furniture was not in close proximity, and there was no place for a television. There was also a formal dining room, but that was cut off from the kitchen. To top it off, the space was replete with 1970's modern décor; we needed updates.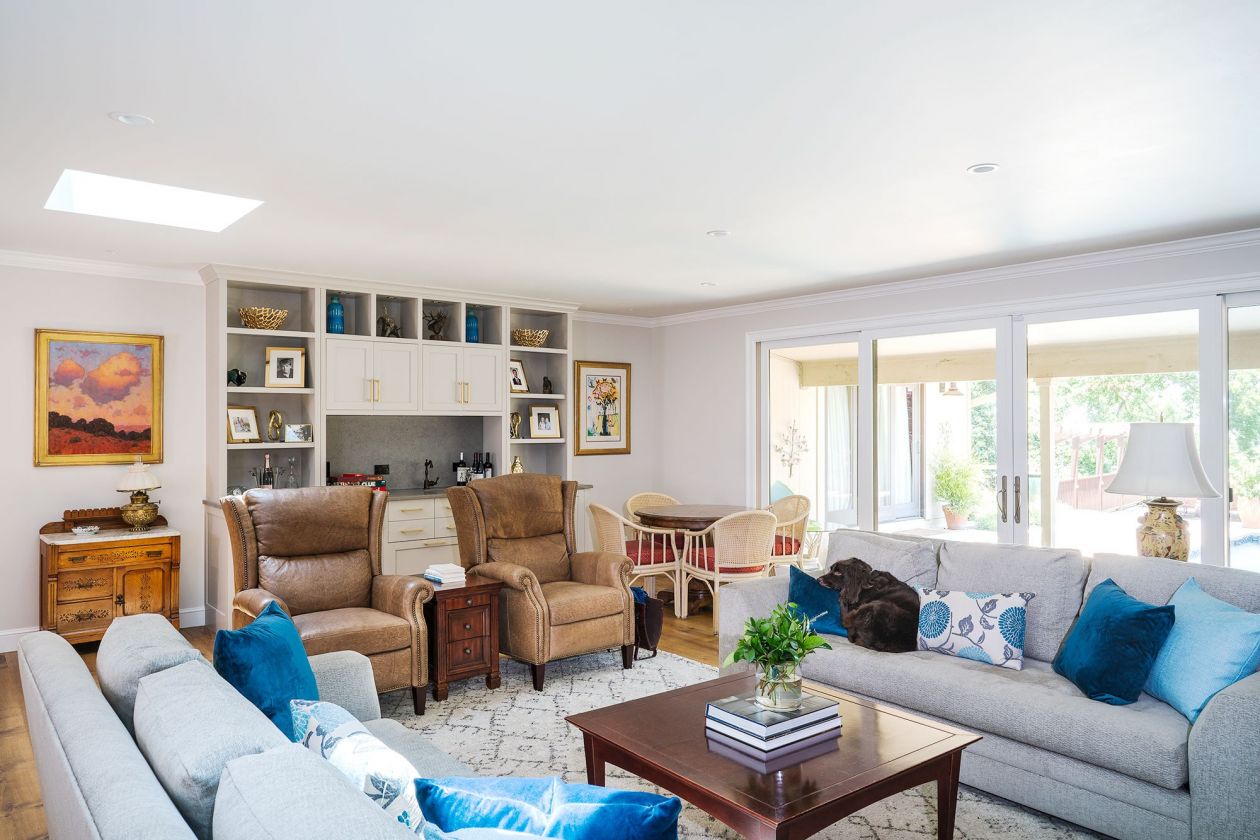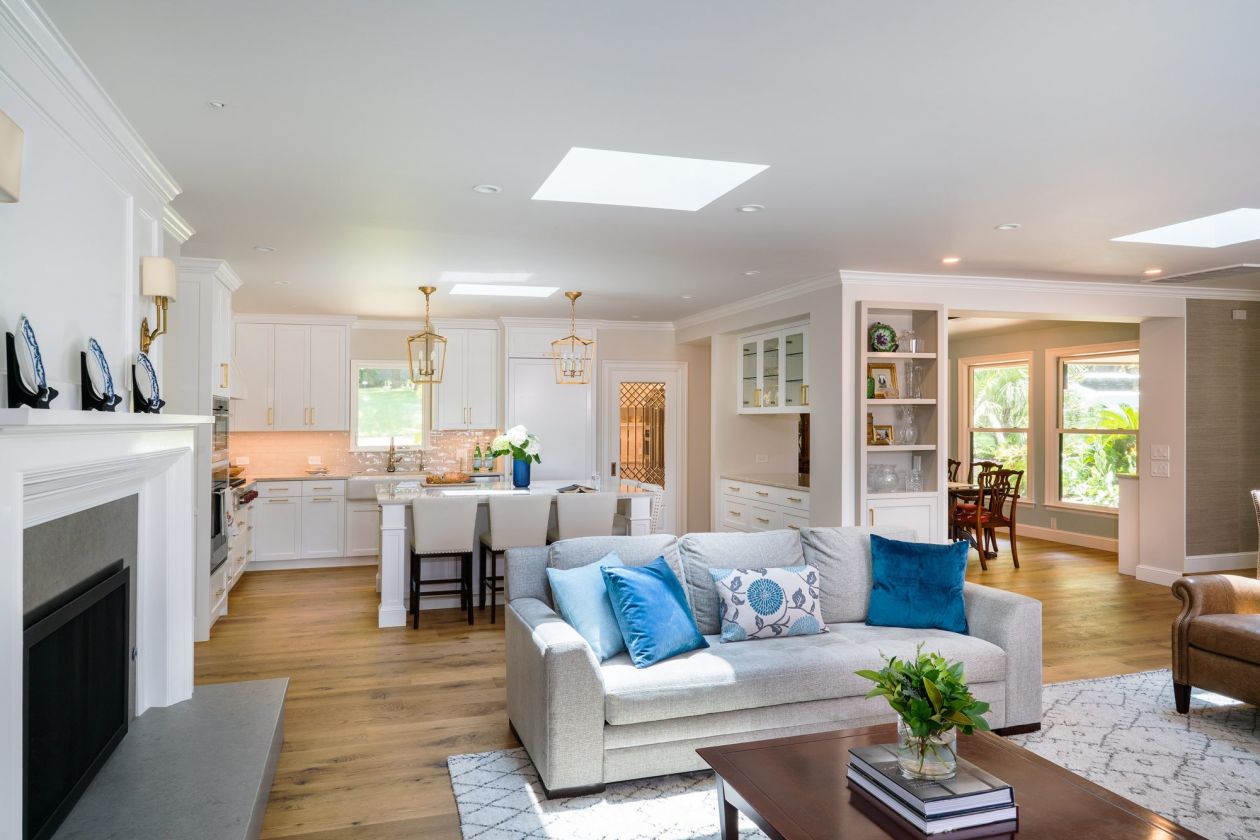 Living
We raised the ceiling height and replaced French doors with a single large slider to the outside. We took down the wall separating the kitchen and living, and put a large island there so that the family could sit together and eat in the midst of the space. Skylights were added throughout, bringing in much more light than one would expect from such a low-slung, deep house.
We trimmed down an overbearing brick hearth to make room for a wall mounted television, and the sitting area is now appropriately gathered around it. We put a game table in the corner served by a built in wet bar and game storage cabinetry, and a place to showcase art, family photographs, and other heirlooms. These additions take the place of the former television.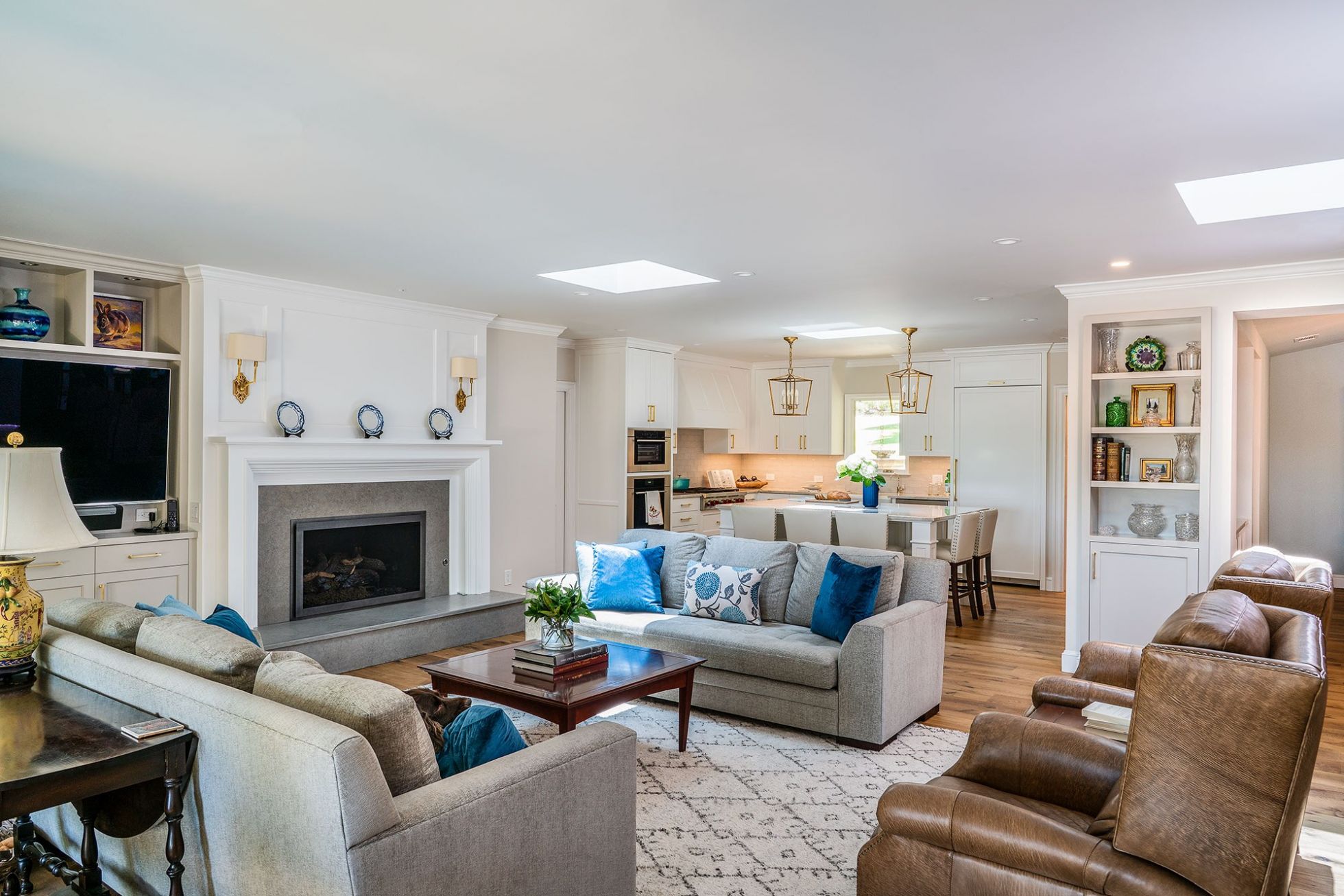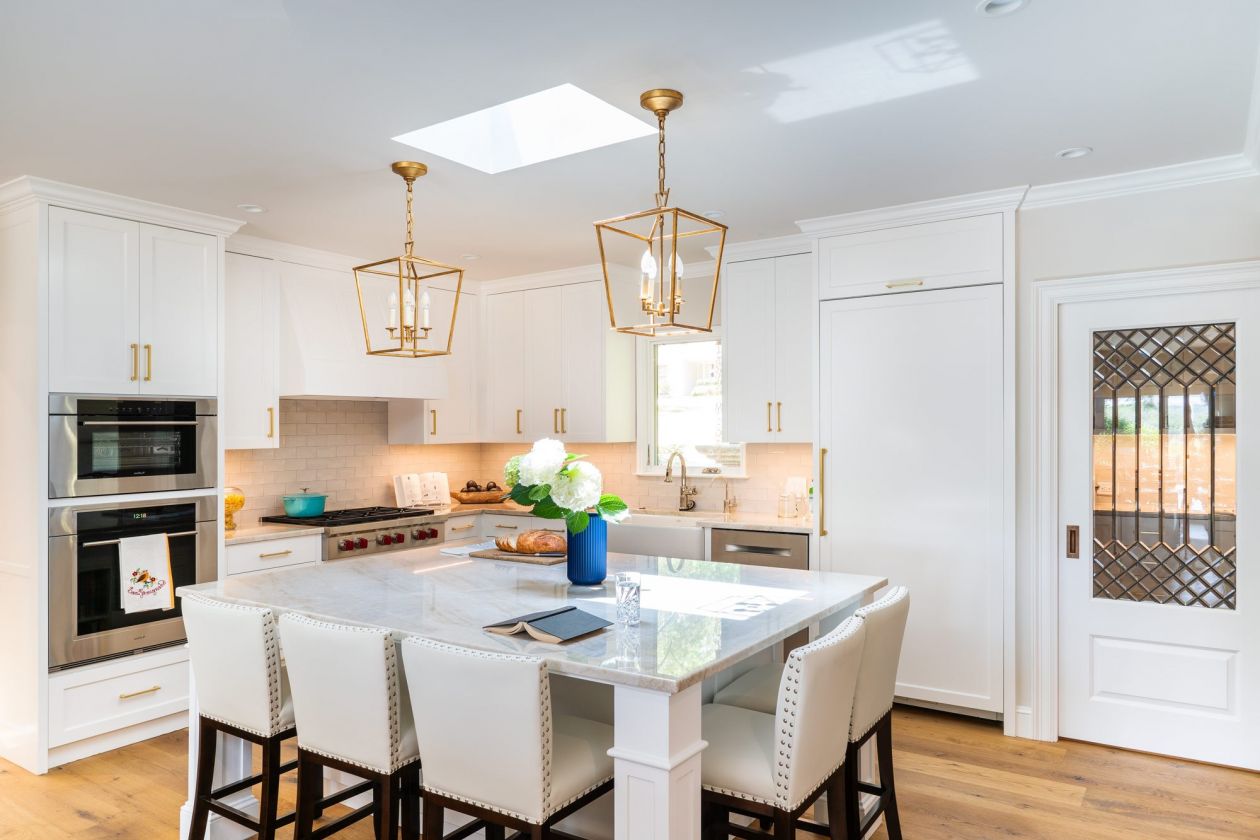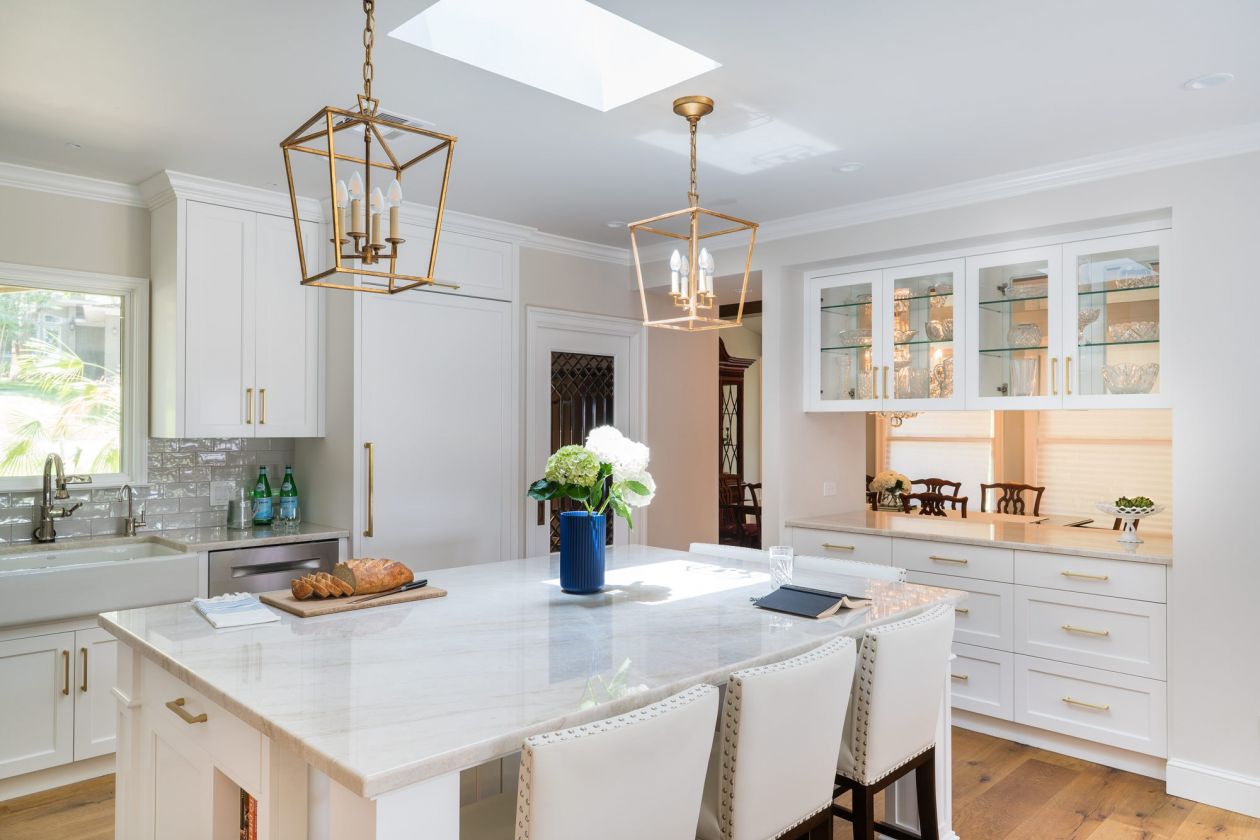 Kitchen
The kitchen and finishes and appliances were upgraded in every way. The formal dining stayed where it was, but we made a passage between it and the kitchen, and replaced the dividing wall with storage, a buffet, and glass-fronted display cabinets to showcase fine crystal wares.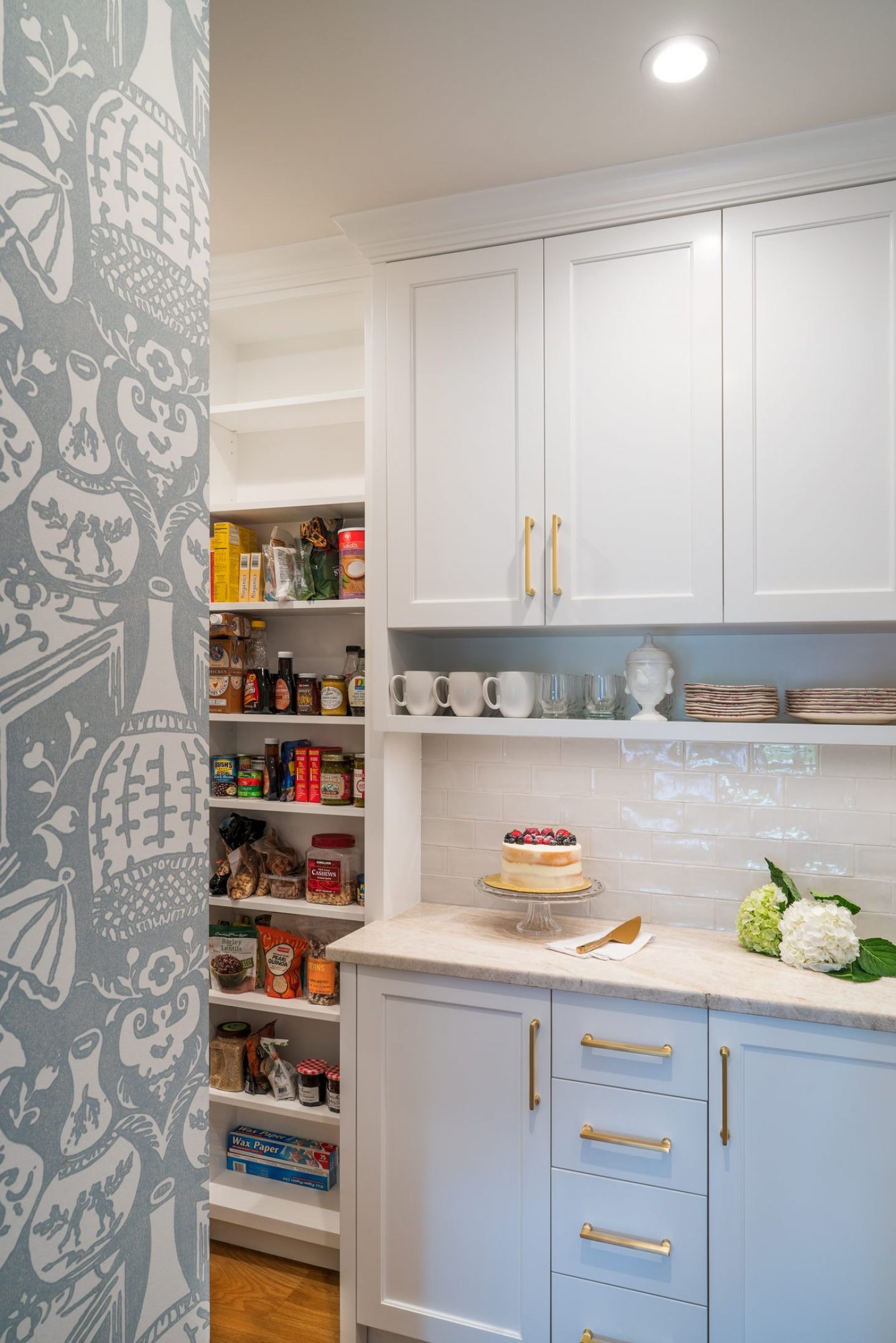 Pantry
We also added a pantry containing a backup refrigerator, microwave, and shelving. It was important that the pantry look attractive even when it was open; a high level of finish and fun wallpaper helped us accomplish this. The space can be closed off with a specially built pocket door that uses a leaded glass pane from our clients' parents' old house, adding an important personal touch to the renovated kitchen.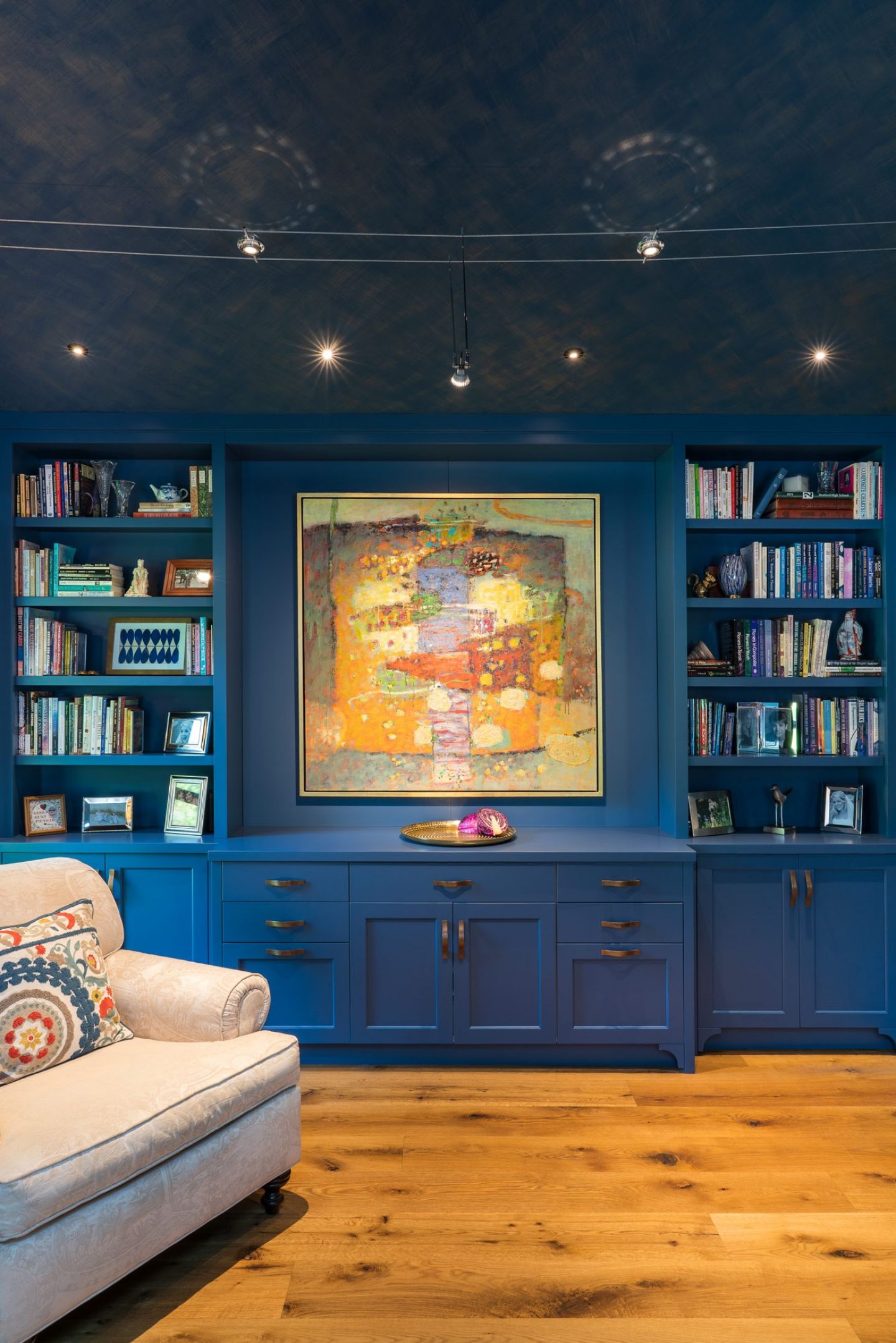 Retreat
We also created a retreat for our client, a dedicated study with deep navy paneling and strategically placed cable lighting focused on key works of art and built-in navy painted cabinetry containing a small library of reading materials.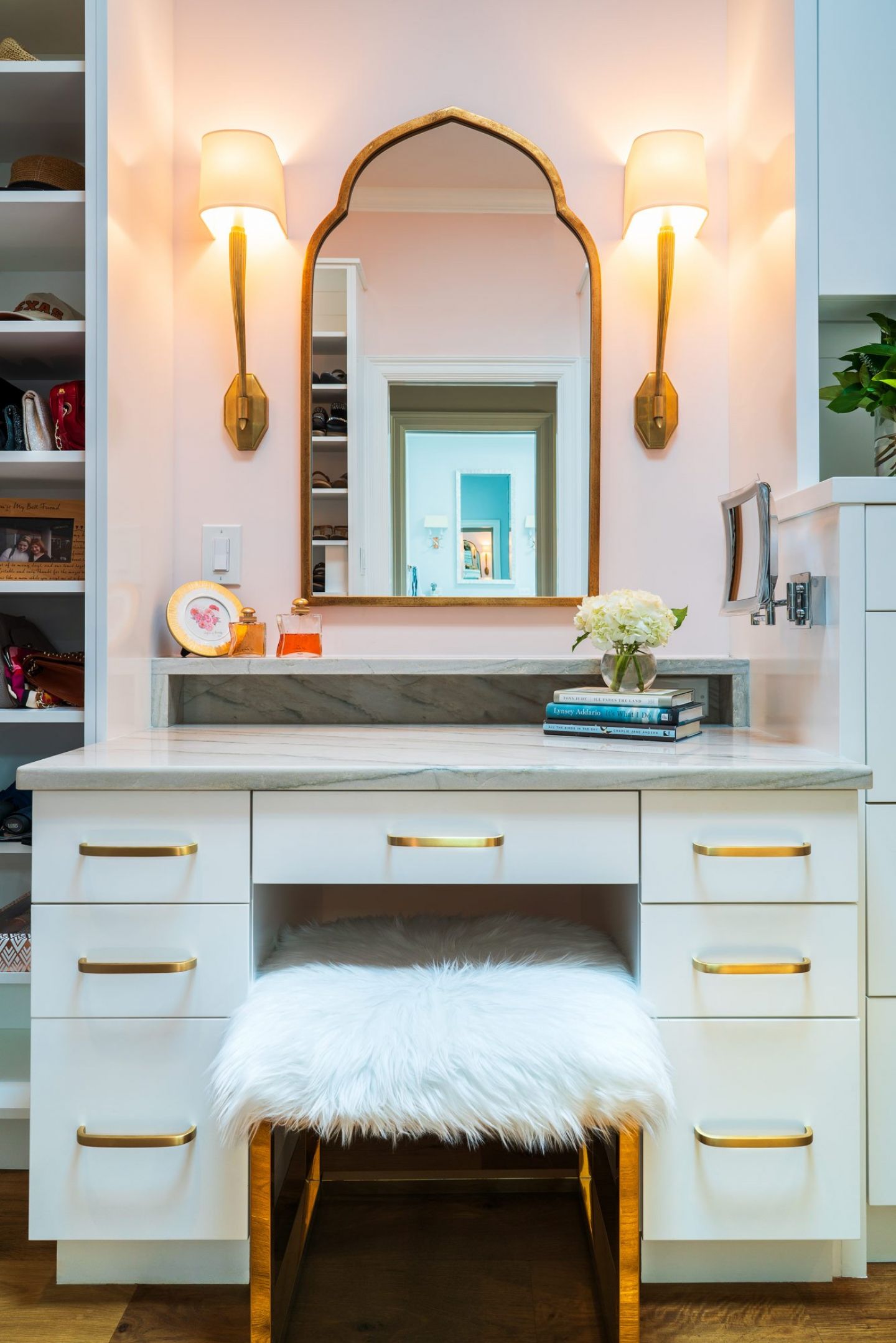 Previously hallways space, this dedicated dressing area was made possible by the reconfiguration of the master bath and hall bath and closet spaces.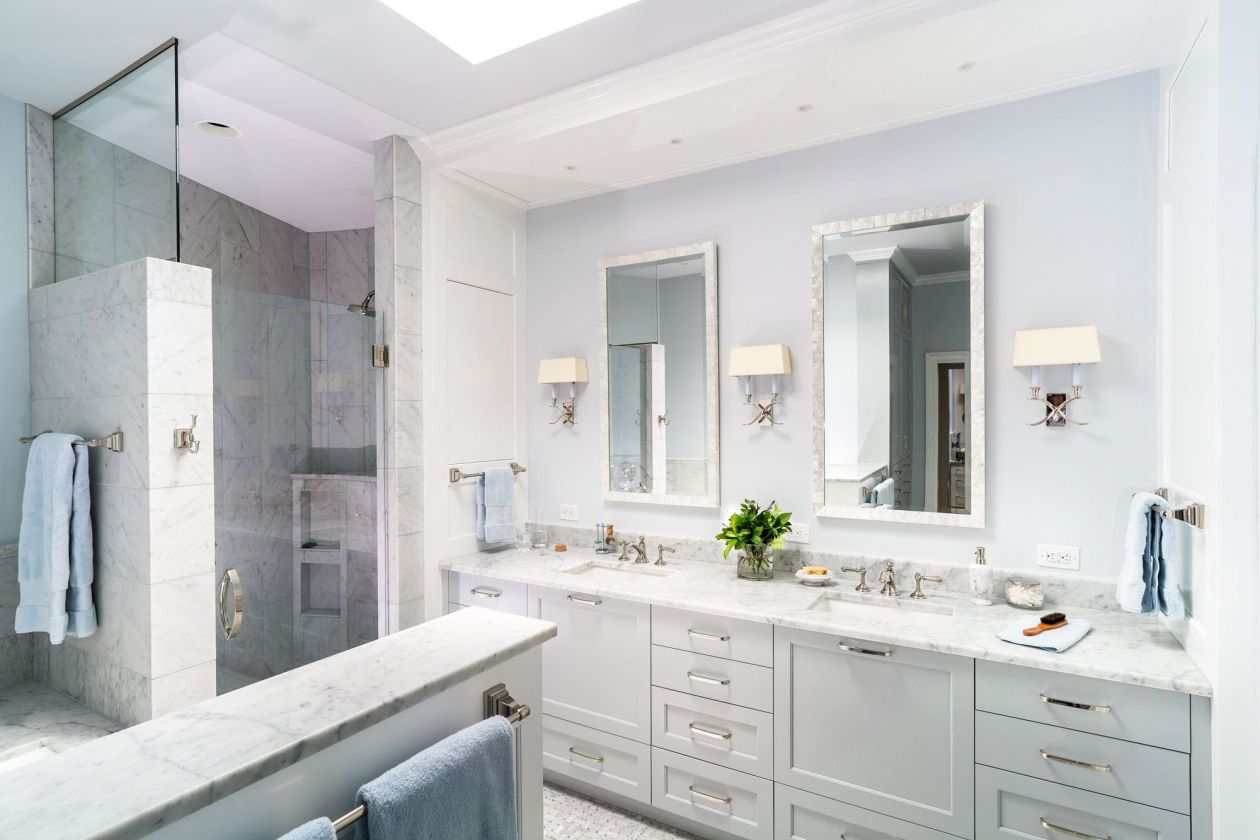 Master Bath
The master bath experienced a particularly radical transformation. The original featured dark green marble on the floor and counters paired with heavy mirror coverage throughout the bath. There was a black corner tub that our clients never used, a black enclosed shower, and black cabinets. Unsurprisingly the space was very dark, and did not have enough storage.
Architect Marsha Topham worked with interior designer Suzy Fields, retained by our client to create a much lighter and more elegant palette for the new bath. New lighting was selected and we installed a skylight to really enliven the space. The marble tile for the floor and walls was tricky; the tile stock had color inconsistencies that essentially meant we had to hand select matching color tile from various lots laid out on the living room floor.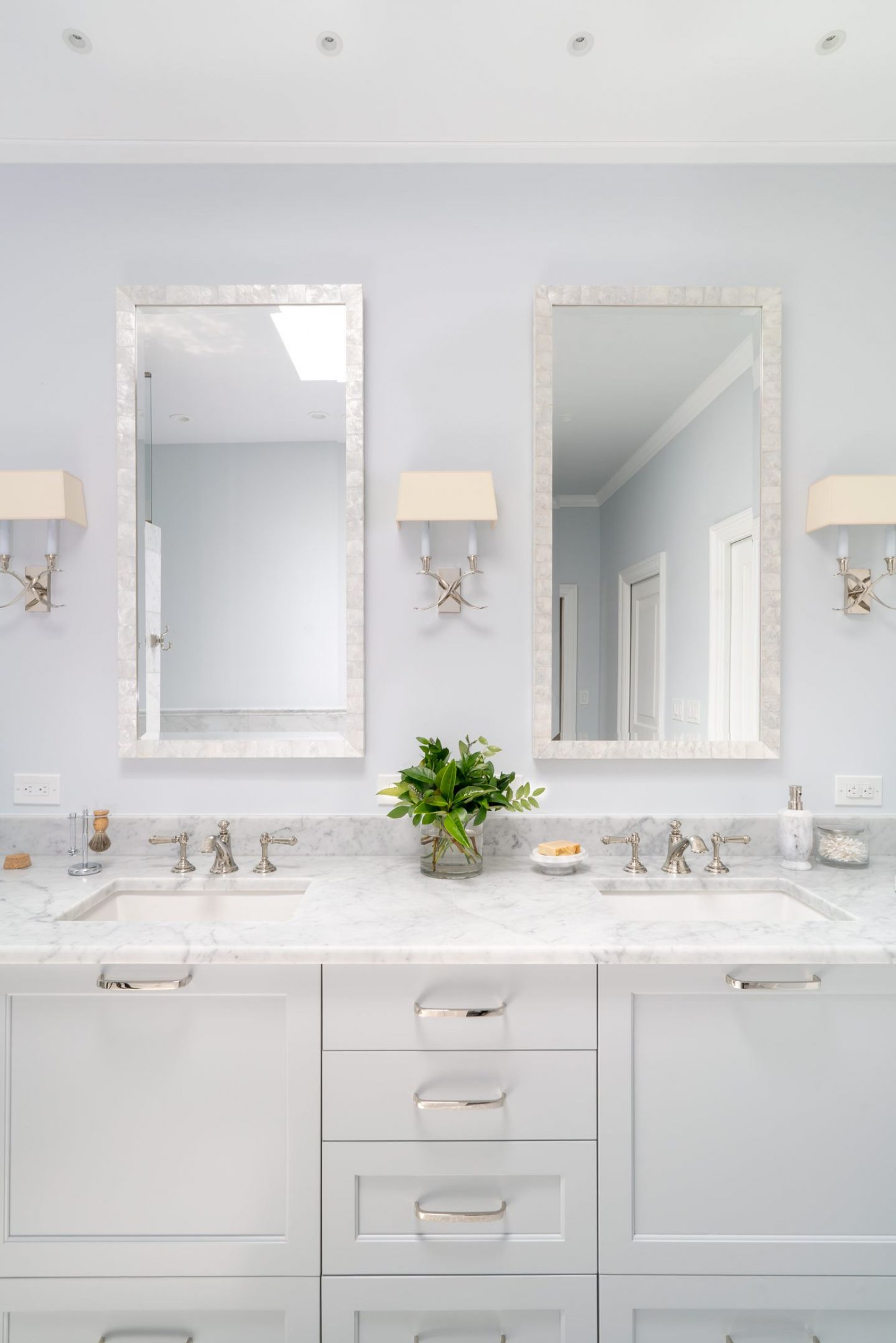 Light fills the space in the common areas now, and there are good places to be and share the time with friends and family. There's a dedicated dining room now serious dining. And there are now places for reflection, nuanced worlds, places for dreaming, being somewhere else entirely. Just a walk down the hall, if you need them.
With Future Outdoor Living Preview