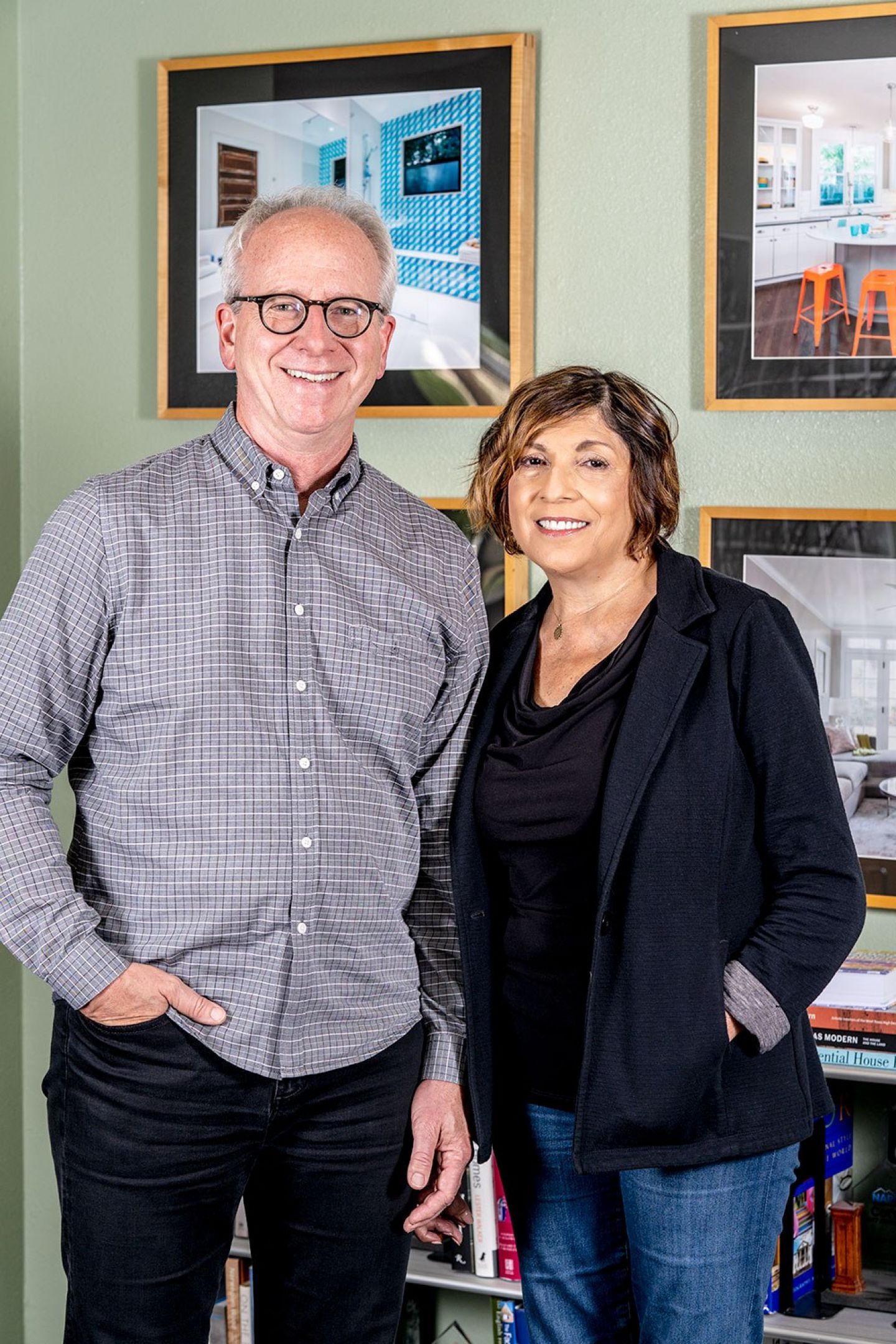 Building A Legacy
Clarence and Stella Guerrero founded CG&S in 1957 as a family-run construction business. They spent the following decades raising their eight children within the company, teaching them the trades of carpentry and bookkeeping. Taking a direct, practical approach, the name CG&S was chosen as an acronym to reflect the family business mentality: "Clarence Guerrero and Sons".
With Clarence's construction skills and Stella's managerial savvy, they developed a remodeling company with a solid reputation for both quality and reliability. The very integrity of the enterprise created a client base that grew largely by word of mouth. Clarence was also an extremely hard worker and demanded the same of his sons out in the field. This prodigious work ethic was a crucial element to the company's success in its early days.
In the 1990s Clarence and Stella sold the company to their children. Billy Guerrero became President and head of sales and estimating, while Dolores Guerrero Davis became General Manager. Her husband Stewart Davis joined the team as an architect in 1994 and established CG&S' design studio. Initially Stewart's role was more technical in nature, but that changed as CG&S' projects began to require more thoughtful design work. It soon became clear that the company was moving towards the design-build process as the best way to complete its projects, and was re-branded CG&S Design-Build. Billy stepped down from CG&S in the summer of 2018 after more than forty years of service, passing majority ownership to Dolores, who now serves as CG&S' President. Stewart serves as co-owner & Vice President.
Hundreds of projects later, CG&S has perfected its design-build approach, and has been recognized throughout Austin and the nation as an award-winning design-build company—one with the same reputation for quality and reliability that Clarence and Stella Guerrero began with over sixty years ago.
Our whole team under one roof
CG&S is a family business whose lineage can be traced back through three generations of the Guerrero family. These days, we're a lot more varied than a crew of brothers wielding wheelbarrows; our diverse group of team members come from many walks of life, backgrounds, and life experiences. But CG&S still has a strong culture of family; it's a part of our DNA. We're loyal to our employees, and this loyalty extends towards our clients. Loyalty is part of our family legacy, and a key part of how we do business.
Photography by Annie Ray and CG&S Design-Build
Dolores Davis UDCP

Owner | General Manager

Joined CG&S: 1994
Education: In college, I studied to become a social worker
Interests Outside Of Work: I love cooking for people!
Favorite Place On Planet Earth: Cibolo Creek, a resort ranch right outside of Big Bend Ranch State Park
What do you want to be when you grow up?: I am grown up. I want to always be me.
Baffled By: Electricity. It's a mystery to me.
Life Slogan: From my father, Clarence Guerrero himself: "Everyone has to be somewhere, and here I am!"

Stewart Davis AIA

Owner | Principal Architect

Joined CG&S: 1994
Experience: Worked in the field since 1983; Bachelor of Architecture from the University of Texas at Austin.
Past Life: I once was Mr. Express, fastest grocery checker at HEB #8 for several consecutive years, back in the roaring '70's.
My Interests Inform My Work By: I value seeking / finding great experiences. This means putting quality and care into the work we do so that others can have memorable and pleasurable experiences.
Interests Outside Of Work: I like to travel, and I like good food and wine
Chatting In The Breakroom, You Can Usually Find Me Discussing The Finer Points Of: Monty Python's Flying Circus
Baffled By: How to pack a suitcase like my wife Dolores does: absolutely no wasted space! As dense as a neutron star!
Life Slogan: Everything in moderation, including moderation!

Sara Hadden

Design Manager / Senior Project Designer

Joined CG&S: 2014
Experience: Worked in the architecture and design fields since 1998; Bachelor of Art in Architecture from Washington University and a Masters of Architecture from the GSAPP at Columbia University.
My Interests Inform My Work By: I like to make things. Architecture and design are another way of 'making things', just on a larger scale.
Favorite Place In The World: A white sand beach, with crystal clear waters and a slight breeze blowing…
Interests Outside Of Work: If I didn't spend all my time chasing my 3 kids around, my interests would include reading, sewing, cooking, graphic design, and travelling. Not necessarily in that order.
Best Vacay: I haven't taken it yet, but I really want to go to Australia!
Dessert choice: red velvet cake
Life Slogan: My glass is always half full.

Marsha Topham AIA

Senior Project Architect

Joined CG&S: 2006; in the field since 1985
In A Past Life: I lived in New England for 10 years, and was fortunate to work on some pretty major renovations of beautiful, historic homes.
Interests Outside Of Work: Hiking, kayaking, and gardening. I like to drive around looking at houses for ideas on my own house—I'm constantly scheming on things to add/refine at home.
Favorite Place In The World: coastal Maine
Inspired By: Nature and quiet moments
Dessert: cheesecake
Baffled By: Design that looks good but doesn't work
When I Grow Up I Want To Be: A rockstar

Gregory Thomas AIA

Senior Project Architect, AKBD

Joined CG&S: I worked for CG&S for seven years starting in 2007. I relocated to Oregon, and now I've rejoined the team!
Experience: I have Bachelor of Architecture, BS in Architectural Engineering, and BFA Visual Art Studies degrees—all from UT Austin—and have an Associate Kitchen and Bath Designer certification from NKBA. I've been a registered architect since 1988.
Interests: Dedicated hot yoga enthusiast. Avid cook specializing in seasonal pies. I love landscape photography and watercolor painting. I live part-time in Oregon, and love gardening, hiking, biking, and exploring the landscape. Travis County Master Gardener and volunteer when I'm able.
Inspired By: Nature (clouds, trees, plants, wildlife). I think about clouds A LOT. Who knew?
Favorite Place In The World: coastal Maine, although Scotland is a close second
Fave Dessert: I am a very, very serious pie maker, but my favorite dessert I ever made was a recent Guajillo Chocolate Flan, which was pretty amazing. Chiles + Chocolate = Love
Slogan: It's getting better all the time!



Gina André AIA

Senior Project Architect, LEED AP

Joined CG&S: November 2020
Educational Background: At Rice University, I studied architecture, art and art history, earning BArts and BArchitecture degrees.
Experience: practicing architecture since 1986
Inspired By: The simple and intricate mathematics embedded in nature are what my designs aspire to mimic. Encountering kind and caring people. They're the best inspiration.
Interests: Spending time with my husband and friends and grown kids, when they're around.
I love roller skating and riding a motorcycle, though I don't own one right now.
Favorite Place In The World: La Sagrada Família Basilica in Barcelona Spain, which embodies natural joy.
Best Vacay: Visting Peru with my husband and exploring Machu Picchu. Mind-boggling engineering reflected in massive structures attuned to earthquakes and the seasonal path of the sun.
Slogan: Be nice and eat your greens.
Baffled By: How a heavy plane can become airborne. It's mystifying.
One-Liner: I was addicted to the Hokey Pokey, but I turned myself around.

Wellington Chew

Architectural Intern

Joined CG&S: June 2021
Experience: This is my first architectural position; I worked for years in the telecommunications construction industry
Educational Background: I studied photography at St. Edward's University and Architecture at the University of Texas at Austin

Work Interests: I am fascinated by fabrication and craft. I think an appreciation of and knowledge of these processes helps me as a designer.
Interests Outside Of Work: I am very interested in wood working and furniture design. I have also been experimenting quite a bit in the kitchen of late.
Fave Music: I can never pick just on favorite, so here are some names: Sharon Van Etten, Khruangbin, Lead Belly
Slogan: What good shall I do this day?
Party Trick: Flipping the domino table during the semi-finals

Justin Quick

Architectural Visualizer / Junior Project Designer

Joined CG&S: 2010
Experience: Bachelor's in Computer Aided Drafting and Design
Past Life: I once worked in IT Management
Interests: Music, video games
Interests Inform Your Work By: I love science, technology, and art—especially when they all come together in one place.
Inspired By: My family and the universe
Dessert: Carrot Cake
Best Vacay: West Texas

Lyndsey Gauthier

Project Designer

Joined CG&S: June 2020
Educational Background: Bachelor of Fine Arts in Interior Design
Experience: worked in residential interior remodeling since 2013
Interests: My dogs, volunteering & fostering rescue dogs, gardening, finding the perfect piece of furniture to refinish, baking, hiking, & exploring the city
Favorite Place In The World: Grand Cayman Islands: the people were wonderful, and the beaches were like nothing I've seen before or since. Miami is second for its colorful architecture.
Inspiration: family, my dogs, and Pinterest
Fave Dessert: Lemon Chiffon Pie
Known For: being detailed & thorough
Slogan: Everything always works out how it should




Madison Mullins

Interior Designer, NCIDQ, ASID

Joined CG&S: July 2018; interned with CG&S winter of 2017–2018 and summer of 2017
Educational Background: BFA in Interior Design from the Savannah College of Art & Design, with a minor in Architectural History
Interests: Antiques, animals, crime shows, thrifting, Gothic architecture, equality, and women's rights
Fave Music: Fleetwood Mac—Stevie Nicks is my idol! I also love Nirvana, Foo Fighters, Patty Griffin… the list goes on
Baffled By: The people that leave shopping carts in parking spaces
Spirit Animal: The owl! Quiet, wise, & fiercely protective of loved ones
Quote: "You are a child of the universe, no less than the trees and stars", from the poem "Desiderata" by Max Ehrmann
Fave Art: Anything by van Gogh

Morgan Miller

Junior Interior Designer, Allied ASID

Joined CG&S: June 2021
Educational Background: I am a 2021 Baylor University graduate with a BFCS in Interior Design and a minor in Studio Art
Experience: I have previous experience interning at K.Rue Designs and KBK to the Trade, both in San Antonio. I've worked at HEB, as a nanny, a swim instructor, and most recently as a receptionist at the Baylor Panhellenic building. I love learning new skills!
Interests Outside Of Work: I enjoy being outdoors, either hiking, camping, or backpacking. I also enjoy painting and ceramics, vintage furniture shopping, spending time with my friends, and trying new restaurants.
Me In A Sentence: An overachiever with a passion for beauty, experience, & people.
Interest Inform My Work By: I get creative inspiration from remaining interested about the world around me via new experiences and travels, as well as listening to music and being around other creative, progressive minds.
Fave Place In The World: Hawaii—I spent everyday snorkeling with turtles and hiking through Maui. It was the most beautiful thing I have experienced.
Superpower: The ability to fly—traveling the world would be so easy!

Lara Weber

Project Consultant

Joined CG&S: 2021
Experience: Over 10 years experience in residential design & sales. Before I started in the residential design industry, I was doing design/sales in events with an emphasis upon high end, custom stationery pieces.

Educational Background: I have my B.A. in Communications from Southwestern University, and my M.A. in Advertising from The University of Texas

Interests Inform My Work By: Design is my passion. It is central in my mind when I make decisions and helps frame the way I view my work. I believe good design in someone's home can elevate their life. I love being a part of this experience with my clients.
Interests Outside Of Work: I love exploring with my twins. Whether it is a hike through nature, eating at a new restaurant, or traveling and seeing different parts of the world. I am also into food; cooking it, eating it, and reading about it. If I have any time leftover, I am constantly trying to learn a new craft. I have tried pottery, drawing, embroidery, and jewelry making.
Superpower: The power to heal.
Fave Music: I love music. I tend to gravitate towards Indie bands, but by no means limit myself to that genre. I enjoy old school country, '90s rap, and some top forty as well.
When I Grow Up I Want To Be: Well-traveled and well-rested.
Slogan: Knowledge is knowing a tomato is a fruit. Wisdom is not putting it into a fruit salad.
Baffled By: The universe. My brain cannot grasp never-ending space.

John Barba CGR

Operations Manager

Joined CG&S: April 2019
Experience: I'm a life-long learner who tries to avoid the school of hard knocks. In addition to a law degree, I hold NAHB designations of Certified Graduate Remodeler and Certified Green Builder. I also passed the F2 International Construction Code exam that's required in some jurisdictions of Texas to pull building permits.
Interests: Faith, family, friends, travel, golf, the outdoors, good food, good books, building stuff, old trucks, sailing—the list goes on!
Favorite Place Visited: Block Island, RI
Fave Dessert: Strawberry Rhubarb Pie
Superpower: time travel
Slogan: What if it's good?!





Bill Totten

Senior Estimator

Joined CG&S: January 2017
Experience: 16 years in the field
Interests: Photography, xeriscaping, & traveling with my wife Jackie
Flying or Invisibility: I have a semi-annual dream where I levitate
Favorite Dessert: Chocolate on chocolate mixed with chocolate
In A Past Life: I made golf club repair videos for Golfsmith
Life Slogan: Learn from the past, but forge ahead with optimism

Joined CG&S: 2021
Experience: In the construction industry since 2003, also worked in metal fabrication
Fave Dessert: Tiffs Treats cookies are the best
Superpower: Wisdom of Solomon
Fave Music: All genres, my favorites are constantly changing
Slogan: Let's build something
Party Trick: Telling jokes, it's not a party until everybody's laughing

Megan Tarpley

Project Accountant

Joined CG&S: August 2017
Superpower: stopping time to enjoy the good moments
Favorite Type Of Music: Queen / hair bands
Known For: positive attitude
Favorite Place In The World: Grand Cayman
Life Slogan: just keep swimming
One-Liner: What do you call a funny candy bar? Snickers :)

Amaka Ukawoko

Accounting Associate

Joined CG&S: October 2018
Interests: music, hiking, reading, movies, exploring the city...
Inspired By: people joining together to do good
Fave Dessert: Love ice cream and cake!
Superpower: Ability to read, write, and speak any language fluently
What I Want To Be When I Grow Up: We hopefully never stop growing, so I'll let you know when I've figured that out :)
Slogan: "I did my best, and my best was good enough"






Iris Davis-Quick

Marketing Manager

Joined CG&S: 2011
Interests Outside Of Work: Film/TV, screenwriting, fashion, rallying
Me, In A Sentence: I am an outgoing, confident person who can make friends with anyone.
Favorite Vacay: My bestie and I took a random trip to Seattle, WA and spent four glorious days wandering the city by foot. We stayed in the Capital Hill neighborhood with its vibrant community, delicious food and coffee aplenty. The best part for me (besides exploring Discovery Park in an apocalyptic state due to surrounding wildfires in the mountains) was reliving my favorite teen rom-com 10 Things I Hate About You. "I know you can be overwhelmed, and you can be underwhelmed, but can you ever just be whelmed?" "I think you can in Europe." :)
Dessert Choice: NadaMoo vanilla ice cream with pecans and chocolate chips
Baffled By: String Theory
When I Grow Up I Want To Be: A world traveler.
Inspired By: Women's rights, my daughters, my mother, independent film, and creative architecture.

Please reach Iris with marketing inquiries at iris.quick@cgsdb.com | Media inquiries at media@cgsdb.com

Ryan Davis

Marketing Assistant

Joined CG&S: 2006
Experience: BFA in Studio Art from the UT Austin
Interests: painting, keyboard, fermentation, soccer
Me, In A Sentence: Always making.
Inspired By: Information
Favorite Place In The World: Total split between the Swiss alps and northern Iceland.
Baffled By: Economics
Life Slogan: Keep it simple

Nathan Morris

Production Manager

Joined CG&S: 2014
In A Past Life: worked in the computer industry and electronic component sales
Me, In A Sentence: hardworking and fun-loving!
Known To Coworkers As: They call me "19"
Inspired By: David Hipple
When I Grow Up I Want To Be: Successful and young at heart
The Super Power I Wish I had: winning lottery number picker
Favorite Place In The World: The national parks of Utah

Randy Gray

Construction Manager

Joined CG&S: 2004
Experience: I've been working in the construction industry since 1991
Favorite Place In The World: The Grand Tetons
Interests Outside Of Work: anything outdoors
Inspired By: Honesty and freedom
Favorite Vacay: a month-long hiking trip in Utah
Life Slogan: A person is only as good as their word.

Danny Scott

Project Manager

Joined CG&S: 1989
Experience: 35 years in the construction industry
Fun Life Stuff: God, Gardening, & Golf
Favorite Dessert: peach cobbler ` la mode
Inspired By: faith, family, & friends
Puzzled By: Why anyone would watch a reality TV show
The Superpower I Wish I had: flight (The super power I actually have is completing crossword puzzles)

Jay Schaefer

Project Manager

Joined CG&S: 1998
Experience: Worked in the construction industry since 1977
Inspired By: Family & friends.
Favorite Place Ever: Lucca & Orvieto, Italy
Dessert Choice: I love them all; never met one I didn't like.
Me, In A Sentence: Extremely handsome, with a sense of humor, and able to stay calm during stressful times.
Party Trick: Levitating grapes

Justin Cunningham CRPM

Project Manager

Joined CG&S: Spring of 2016
Education/Background: I have an AAS Degree in Renewable Energy Technology and an AAS Degree in Architectural & Engineering Computer Aided Design, and was formerly a BIM Technician
Interests Outside Of Work: Family, my dogs, long distance running, & volunteer work—especially with dogs
Favorite Place In The World: Playa Sámara, Guanacaste, Costa Rica
Superpower: the power to heal
When I Grow Up I Want To Be: A game warden
Baffled By: the universe




(art glass backdrop by Dallas-based artist Robin Herndon)

James Thurston CR, CRPM

Project Manager

Joined CG&S: June 2017
Experience: in the field since 1995
Interests: Family, horses, iron work, bird hunting, fishing
Best Vacay: A dude ranch in the Arizona White Mountains, riding out with the wranglers in the morning
Current Music Kick: Chris Stapleton
Party Trick: some pretty epic dance moves
Favorite Place In The World: Saint Lucia

Rick Benner

Project Manager

Joined CG&S: February 2022
Experience: been in the industry since 1987; also worked as an institutional bond broker
Educational Background: University of Texas at Austin
Interests Outside of Work: golf, boating
Me In A Sentence: Personable, intelligent, with a sense of humor
Best Vacay: We love to take cruises; the Bahamas, Cancún, Belize... they were all great!
Fave Music: blues & classical
Baffled By: the Cloud
Party Trick: juggling

Rob Bailey

Project Manager

Joined CG&S: March 2021
Experience: worked in the construction industry since 2008

Educational Background: 5 years of college split between Dutchess Community College and SUNY Oswego, majoring in writing
Interests: reading, writing, health, & fitness

Superpower: immortality

Fave Music: Matchbox 20

Slogan: Not every day is going to be a good day, but any day can be the best day

Rick Posner

Assistant Project Manager

Joined CG&S: May 2021
Experience: I have worked as carpenter, in construction in general, and as a project manager since 2015
Educational Background: I have a degree in business management, and I trained as a carpenter in the Carpenter's Union getting various certifications for several years in my mid-20s
Interests Inform My Work By: I am very interested in sustainability in wood-working and structural engineering in general. I just enjoy and am fascinated with building. New ways to build for function, form, and beauty. As well as old time and rustic methods.
Interests Outside Of Work: I spend time reading, traveling, as much time as I can in nature, and I am a musician as well
Me In A Sentence: A laid-back, driven individual with a creative and curious mind
Fave Place In The World: I think I would have to call that a tie between Muir Woods and the Atlantic Ocean (heart is where the home was). Three-way tie if you include Hawaii.
Inspired By: Family, friends, people in general. Building and learning new things and being able to apply them to my daily life. I think it's important in life to constantly have challenges. Thankfully I have more interests than I can handle!

Fidel Ramirez

Senior Lead Carpenter

Joined CG&S: 1985
Me, In A Sentence: Fidel gets along with everyone!
Known To Coworkers: The guy who gets stuff done.
Inspired By: learning every day
Favorite Dessert: cheesecake
Favorite Place In The World: Mexico
Interests Outside Of Work: cooking outside
Baffled By: How airplanes stay in the air

Joshua Deets CLC

Lead Carpenter

Joined CG&S: 2006
Interests: Hunting, fishing, off-roading, swimming, & my dogs
Me, In A Word: Adaptable
Best Place In The World: Zilker Park
Choice Dessert: Ice Cream
Favorite Music Style: classic country & classic rock
Super Power I Wish I Had: flight

Joined CG&S: 2012
Experience: worked in the construction industry since 2006

Interests: Mechanics, painting, & construction
Me in a sentence: I would say that I'm determined, hopeful, & precautious

Favorite Place in the World: Mexico

Inspired By: My family, especially my dad

Fave Dessert: Tres leches cake

Fave Music: Mexican oldies

Joined CG&S: 2016
Interests: sports & being outdoors
Myself In A Sentence: I like to keep a positive attitude
Favorite Place In The World: San Miguel de Allende
Inspired By: learning new things!
Chosen Superpower: teleportation
Fave Music: Banda
Slogan: Enjoy the simple moments of life
Fave Dessert: cheesecake




Filiberto Valencia Campos

Carpenter

Joined CG&S: 2014
Interest Inform My Work By: I'm extremely passionate about learning new techniques & learning new skills to do my job
Interests Outside of Work: fishing, traveling, spending time with family & friends, fixing or building projects, & classic cars
Myself In A Sentence: I'm a hard-working & driven individual who isn't afraid to face a challenge
Fave Place In The World: Guanajuato, Mexico!
Inspired By: Not giving up, no matter how many times we fail
Fave Dessert: Caramel flan
Fave Music: Banda & bachata
Known For: I'm always a happy person

David Weinstein-Perez

Carpenter

Joined CG&S: 2016
Educational Background: Arizona State University
Interests Inform My Work By: keeping me detail-oriented
Interests Outside of Work: I enjoy biking around in my free time
Fave Place In The World: any ski mountain
Inspired By: how far we've come as a society
Fave Dessert: cheesecake, hands down
Superpower: flight, to skip the traffic
Fave Music: hip-hop

David Hipple

Warranty Manager

Joined CG&S: 2011
Previously: Auto Painter & Salesman
Interests Outside Of Work: Woodworking and airbrushing
Favorite Place On Planet Earth: The Grand Canyon
Me, In A Word: Perfectionist
Best Vacation: Hawaii
Baffled By: Water leaks
Life Slogan: Strive to be the best you can be!