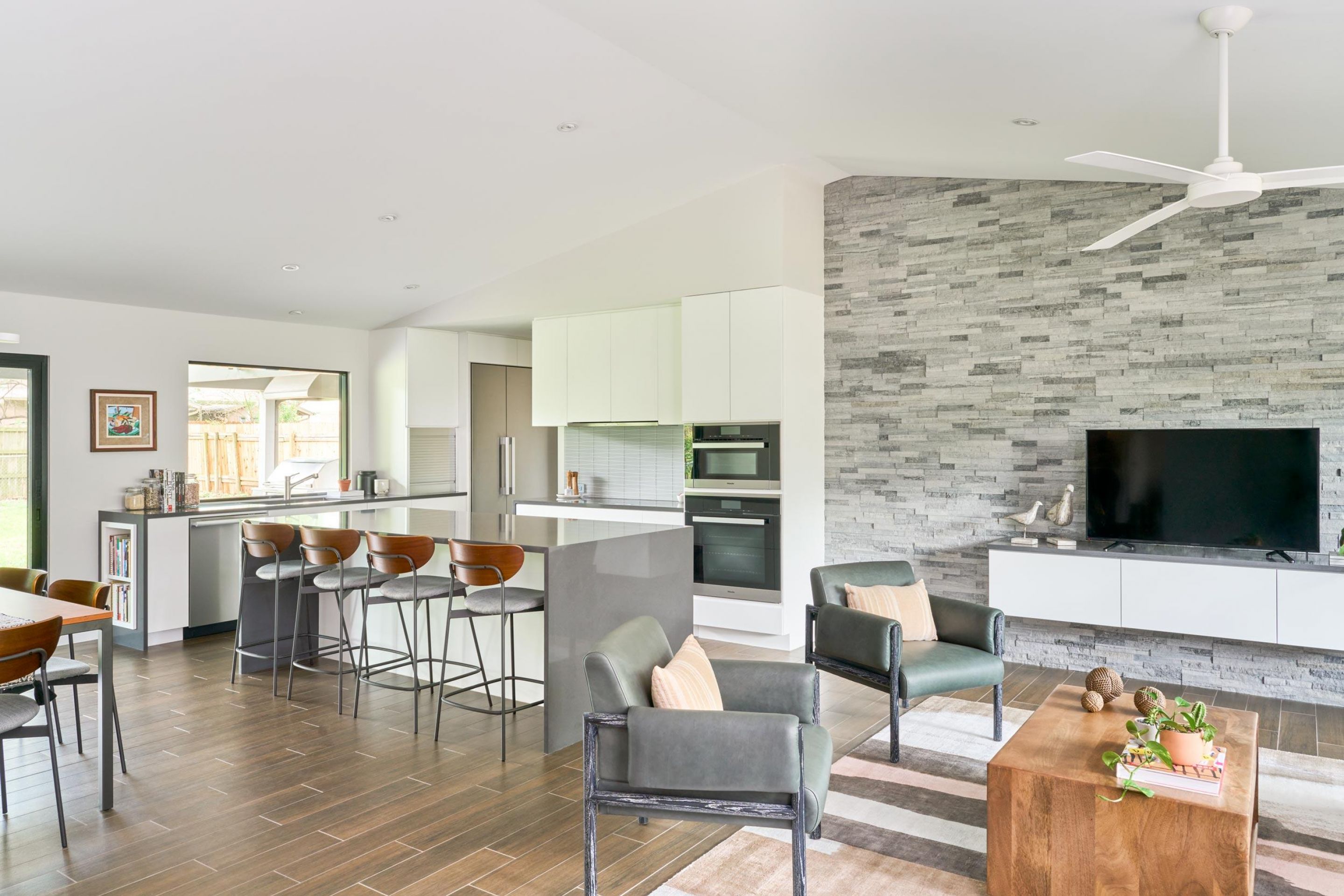 Airy Grays In Allandale
Location was everything for this couple when they packed up their belongings in a U-Haul and set out from Wisconsin in search of a new home in sunny Austin, TX. Ute and William wanted to find a home closer to their daughter, son-in-law, and grandchildren, and eventually found a classic ranch-style home in northern Allandale that would suit as a starting point. It was just around the block from their daughter's family, and the house and neighborhood 'felt just right' even though the style and layout of the home were far from perfect. Having nailed down the location, our clients decided on a full home renovation, and contacted CG&S to make the space perfectly suited to them.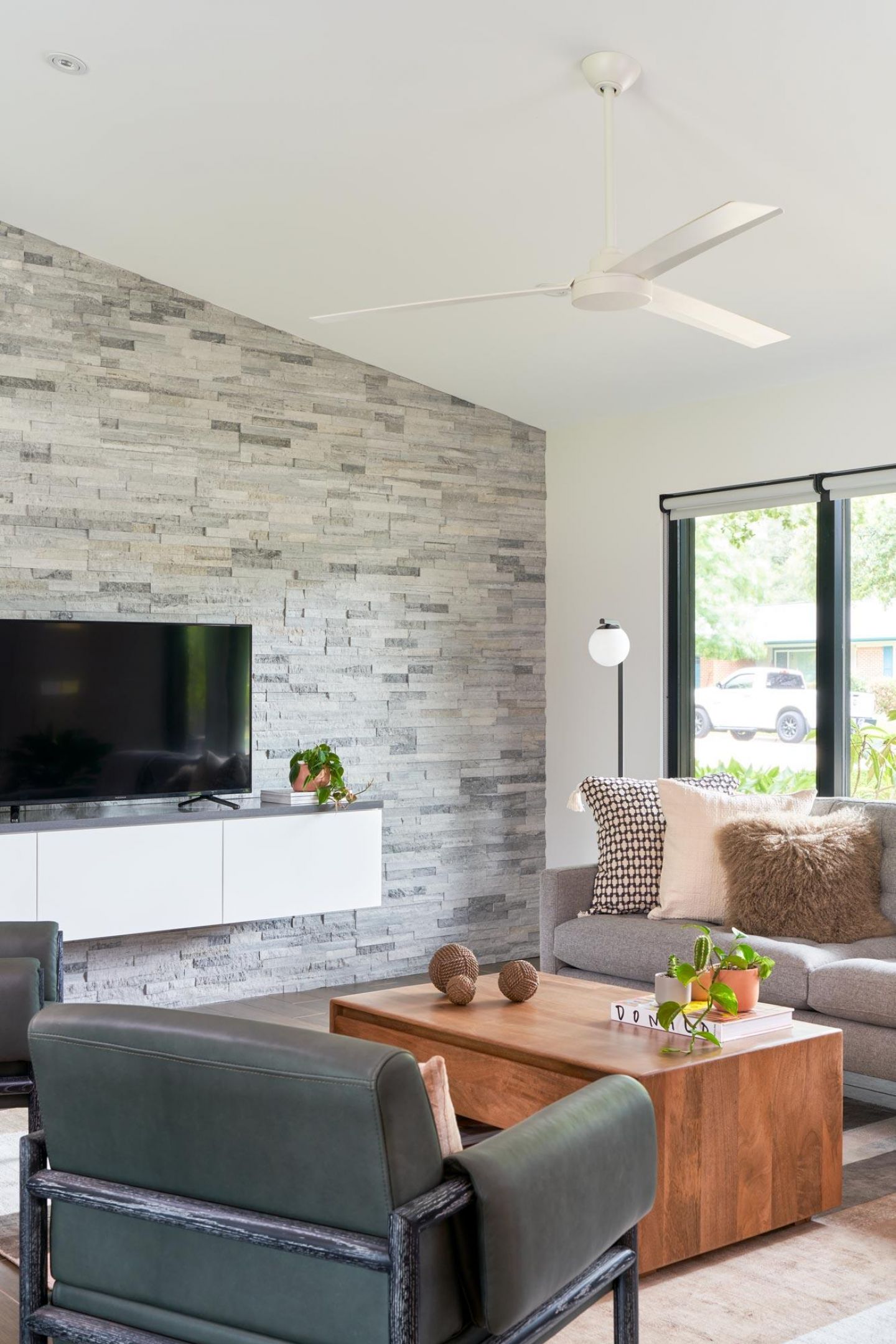 The plan was to gut the house and start from scratch with new layout and finishes. Ute brought her German sensibilities to the project, desiring clean and modern aesthetics.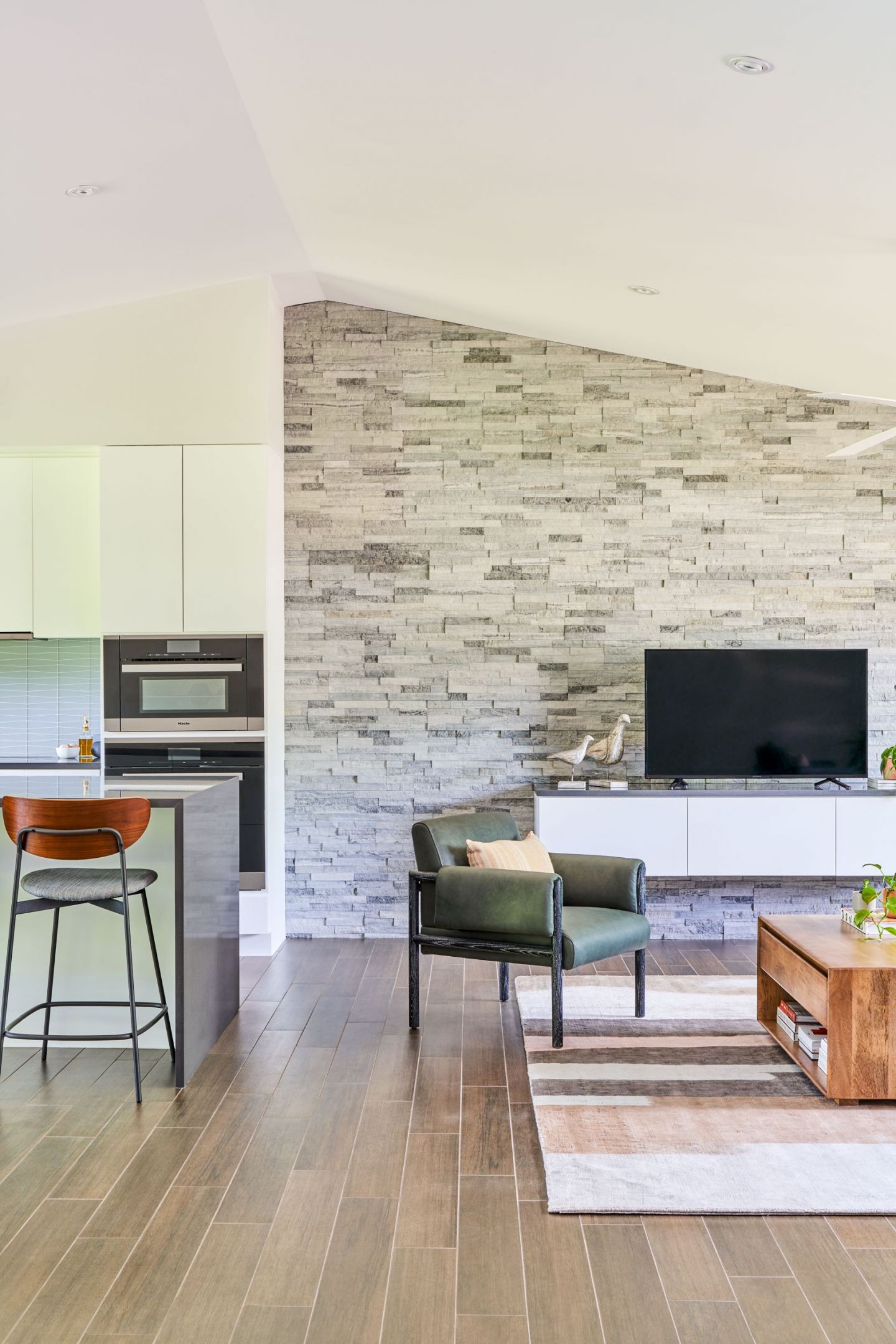 The project presented a chance to radically break from the traditional style of the home they were leaving behind. We created a very open design by removing unnecessary partitions and vaulting the ceiling in the new public zone that can now comfortably accommodate grandchildren and visitors, with a strong connection to the outdoors for relaxation, gardening, and cooking.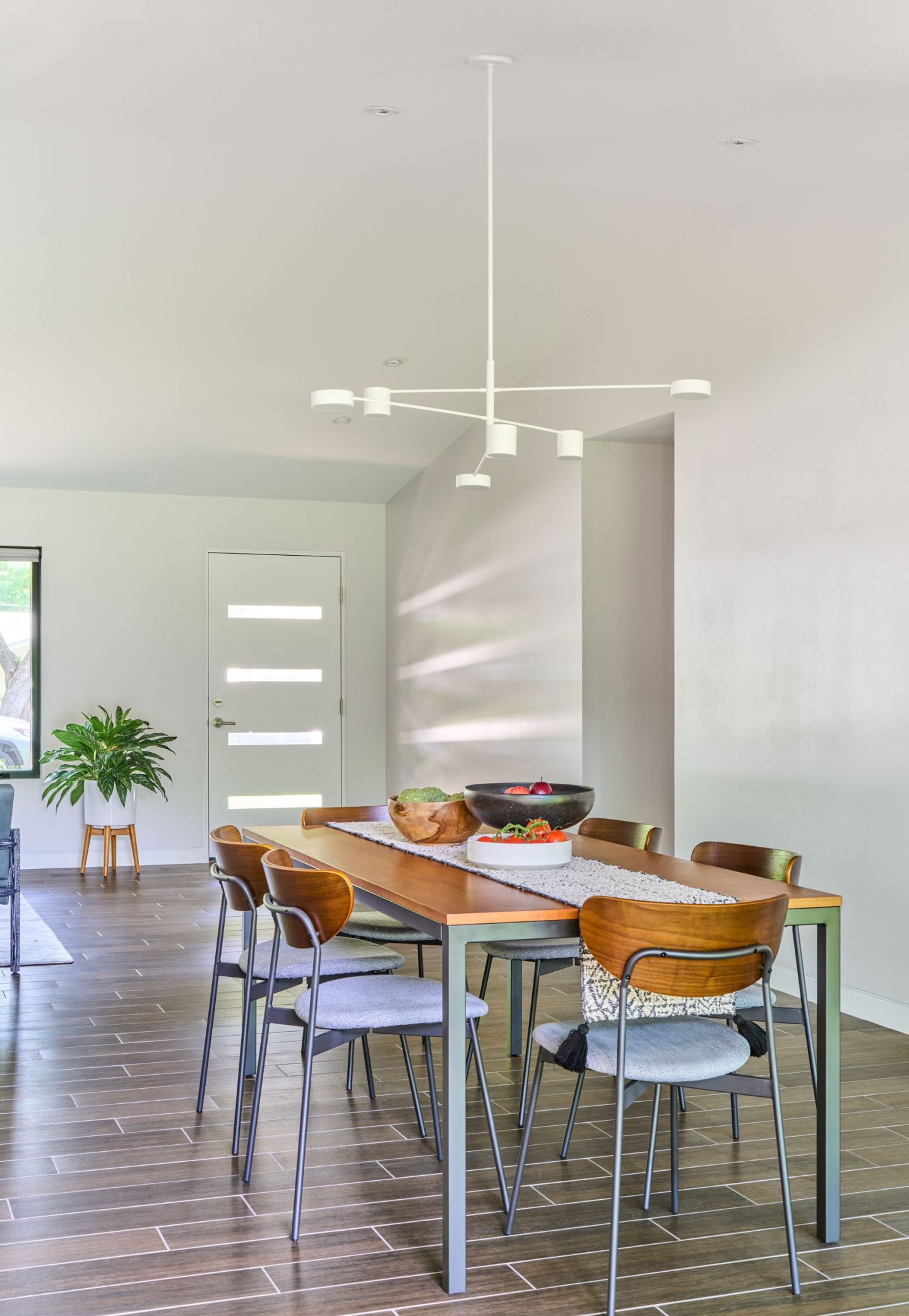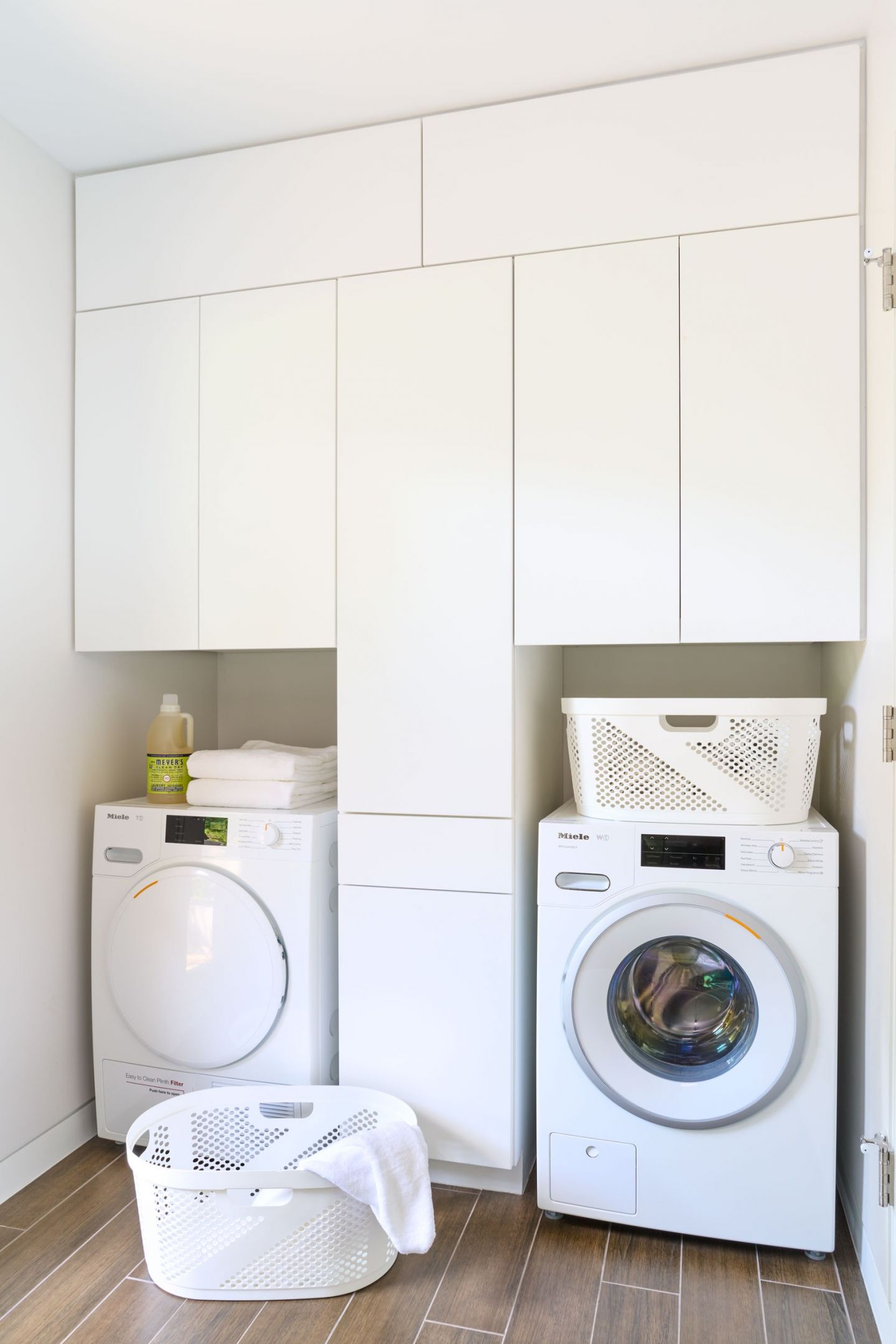 Large sliding doors, new big aluminum windows, and a modern front door strengthened this connection. We increased counter space and reorganized the mudroom, laundry, and kitchen space to give better flow and functionality.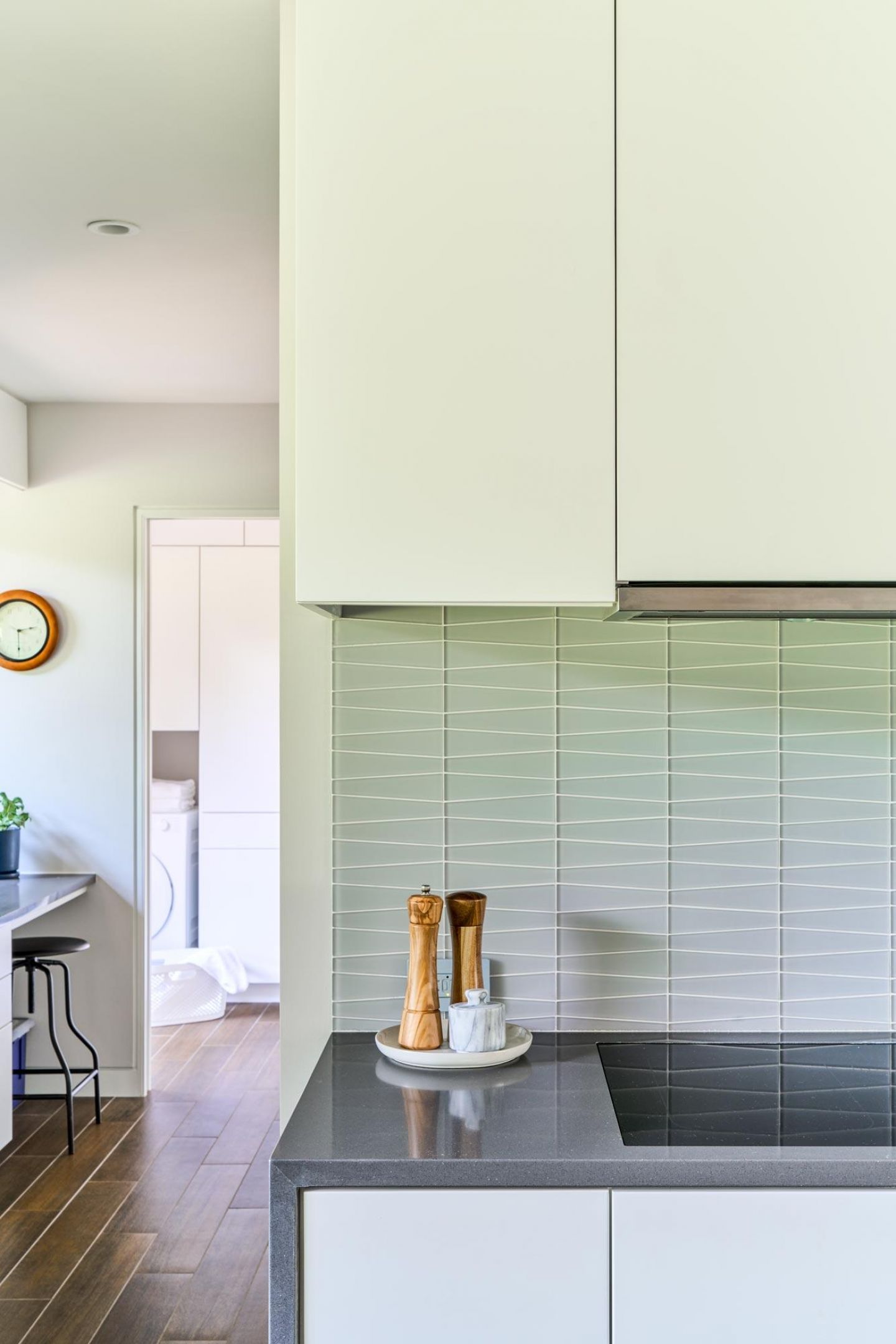 The color palette was tuned to be neutral and airy-feeling. Whites and grays were in our clients' vision from the beginning. These are offset and grounded by the darker flooring, but care was taken not to go too dark and kill the airy effect.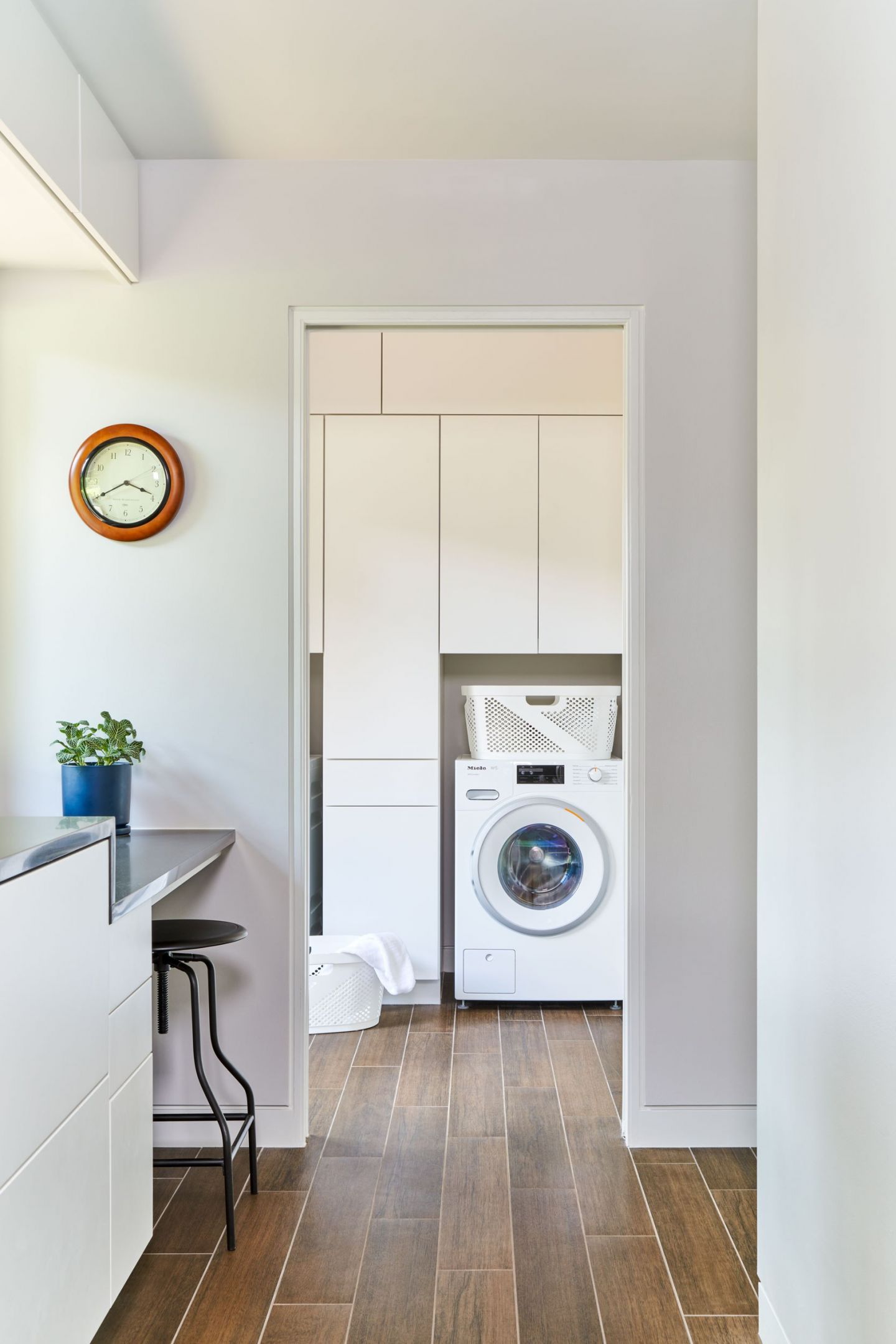 We created a flush baseboard throughout the house with a thin reveal joint that accentuates the grid-like feel of the cabinets and counters and unites the spaces with a minimalist continuity. The same treatment extends to the door trim.
The bedroom wing has guest rooms for the grandkids, one of which serves—for now—as an office and exercise space for William, who trains for Iron Mans and other endurance competitions.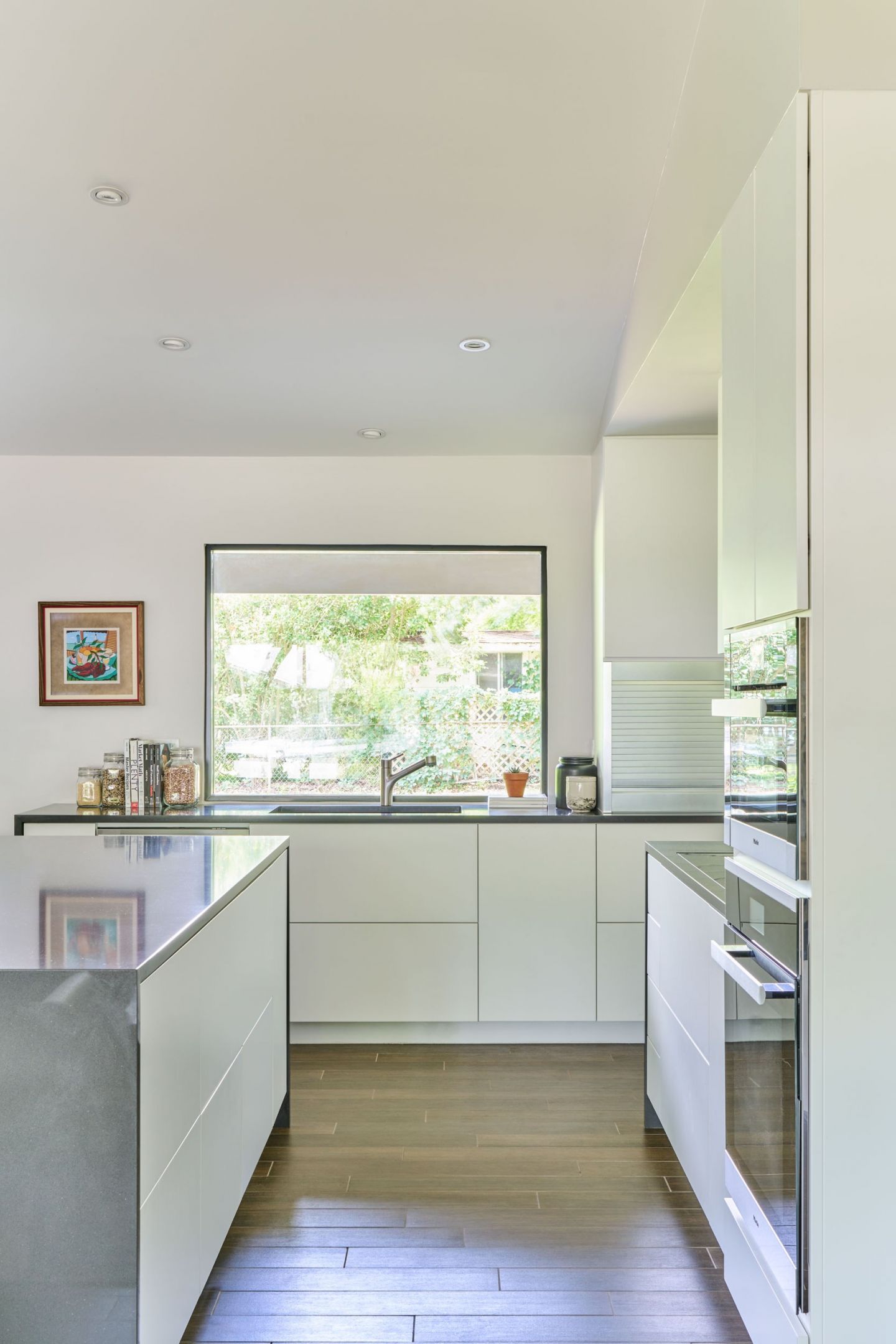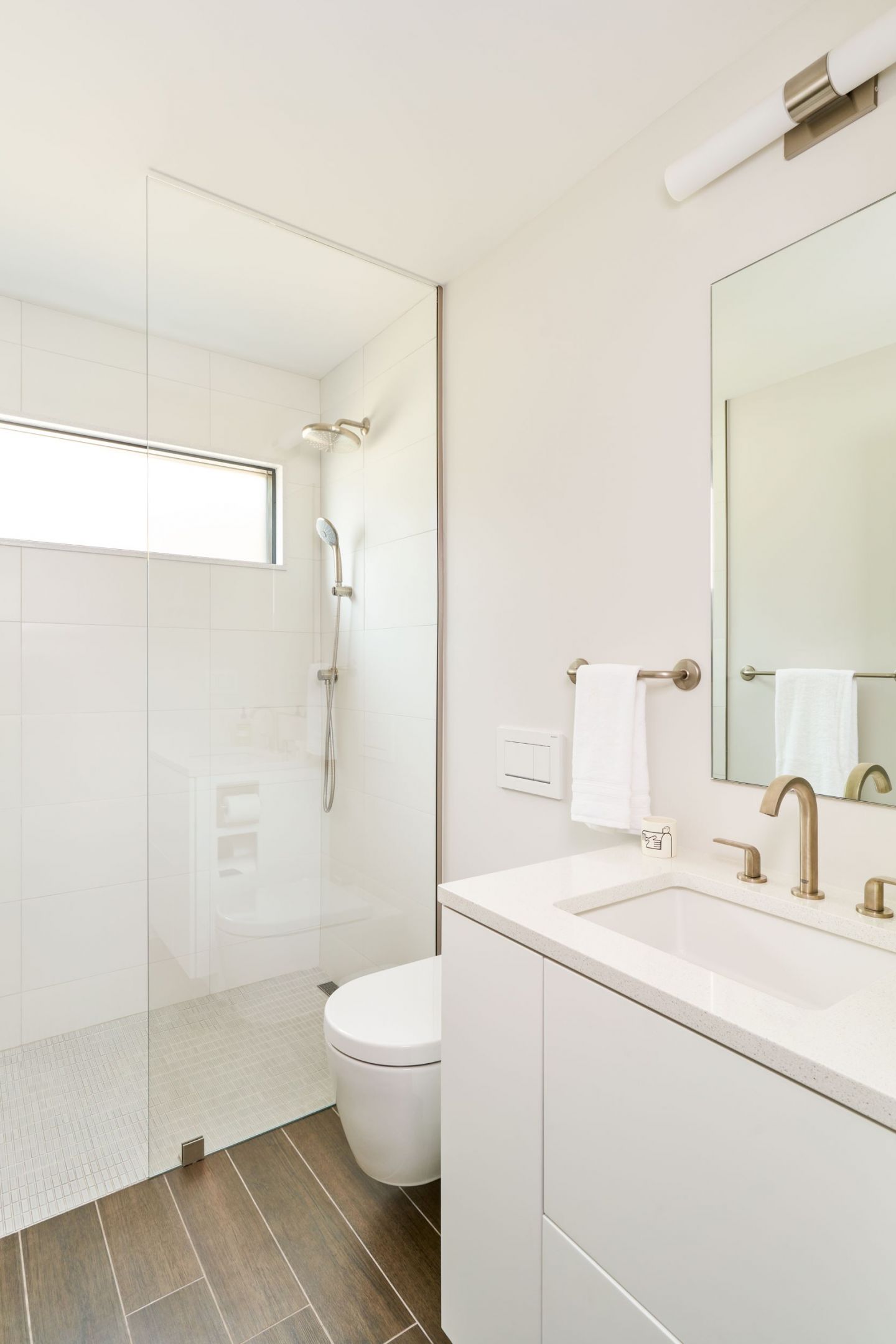 Durable materials were chosen throughout the home to withstand playing children and making spaces easier to clean and maintain. The painted euro-style cabinets were shop finished with baked-on enamel and feature touch-latches, which will help our clients as they age.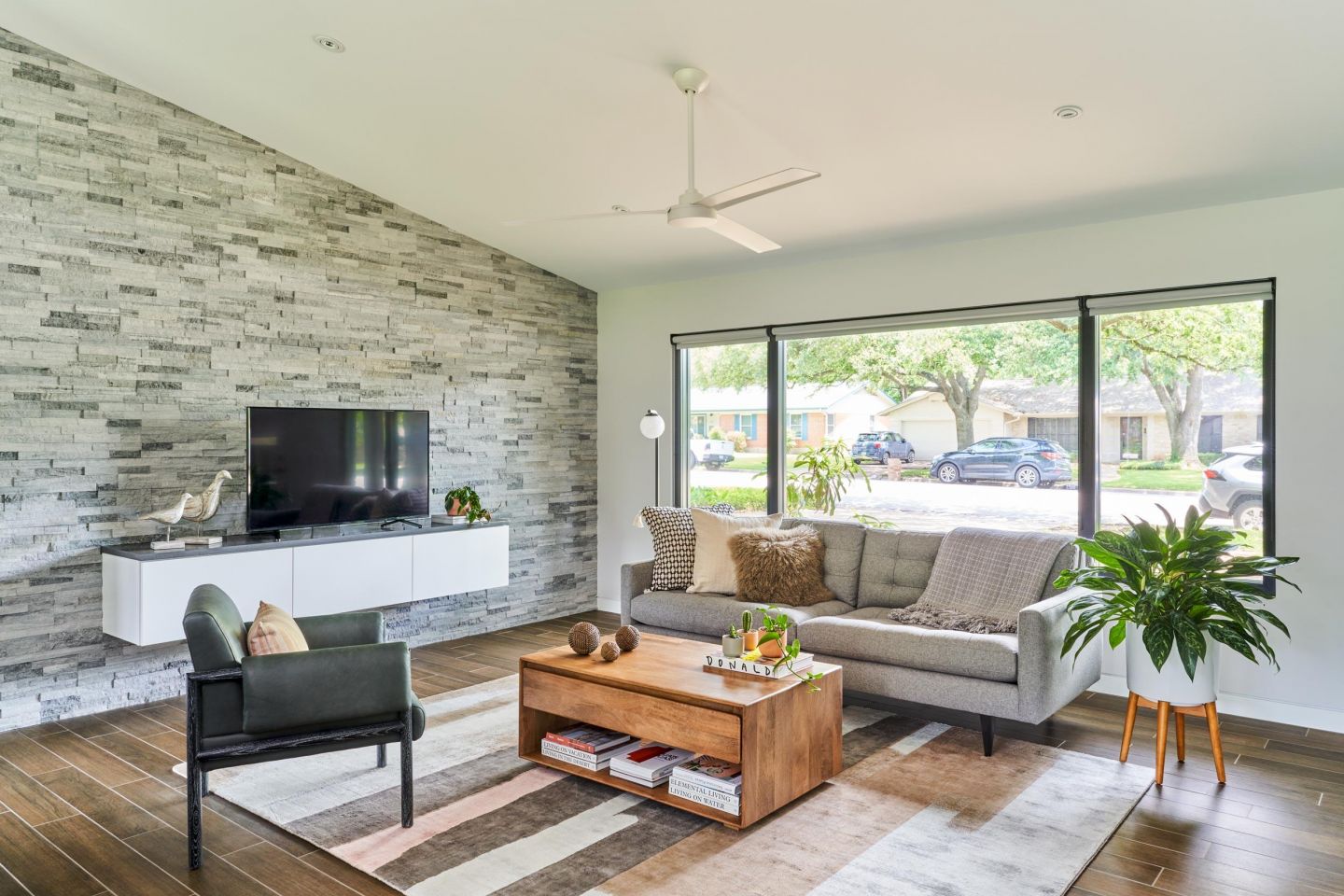 Tile floors with a warm wood pattern flow throughout the home. We also totally redid the lighting, installing copious amounts of energy efficient LED fixtures for task and ambient illumination.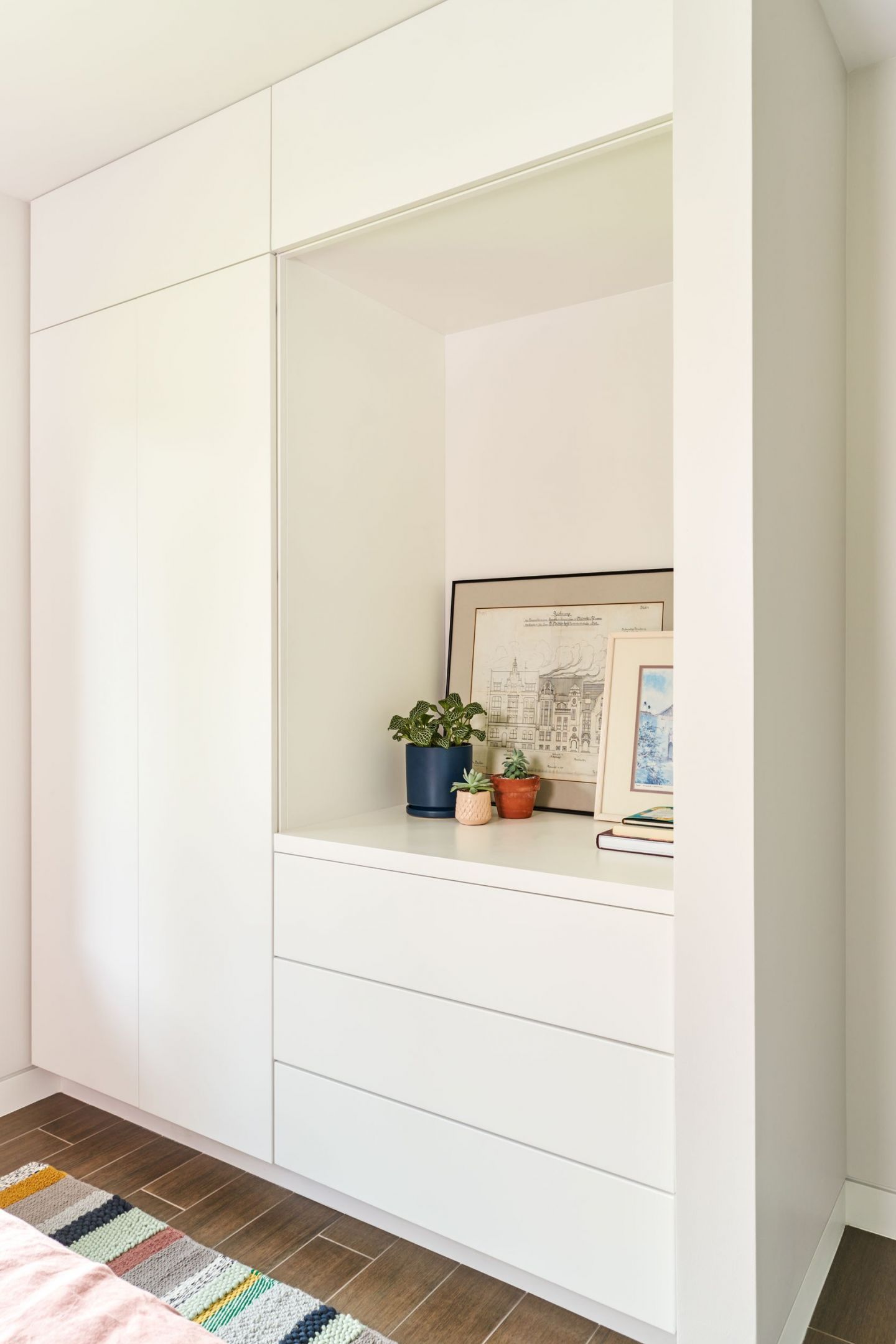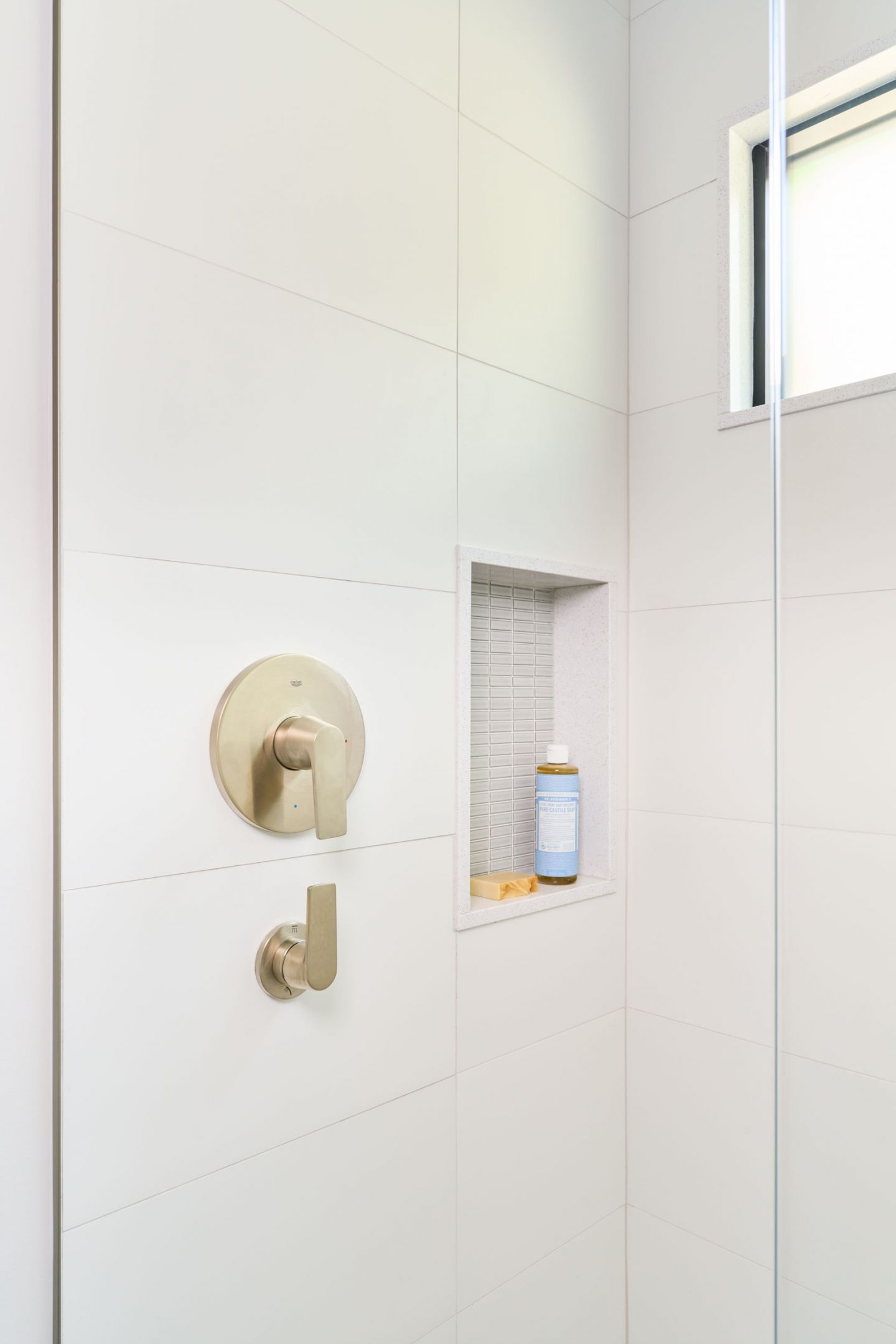 These were, of course, tough times to create a new home. Our clients lived in Wisconsin for the duration of the project while COVID loomed over us all. But the technologies that allowed us to continue working at a distance were the same for our clients as for our crews, designers, and vendors; it would have been almost as difficult to complete the project if Ute and William lived in Austin as Wisconsin.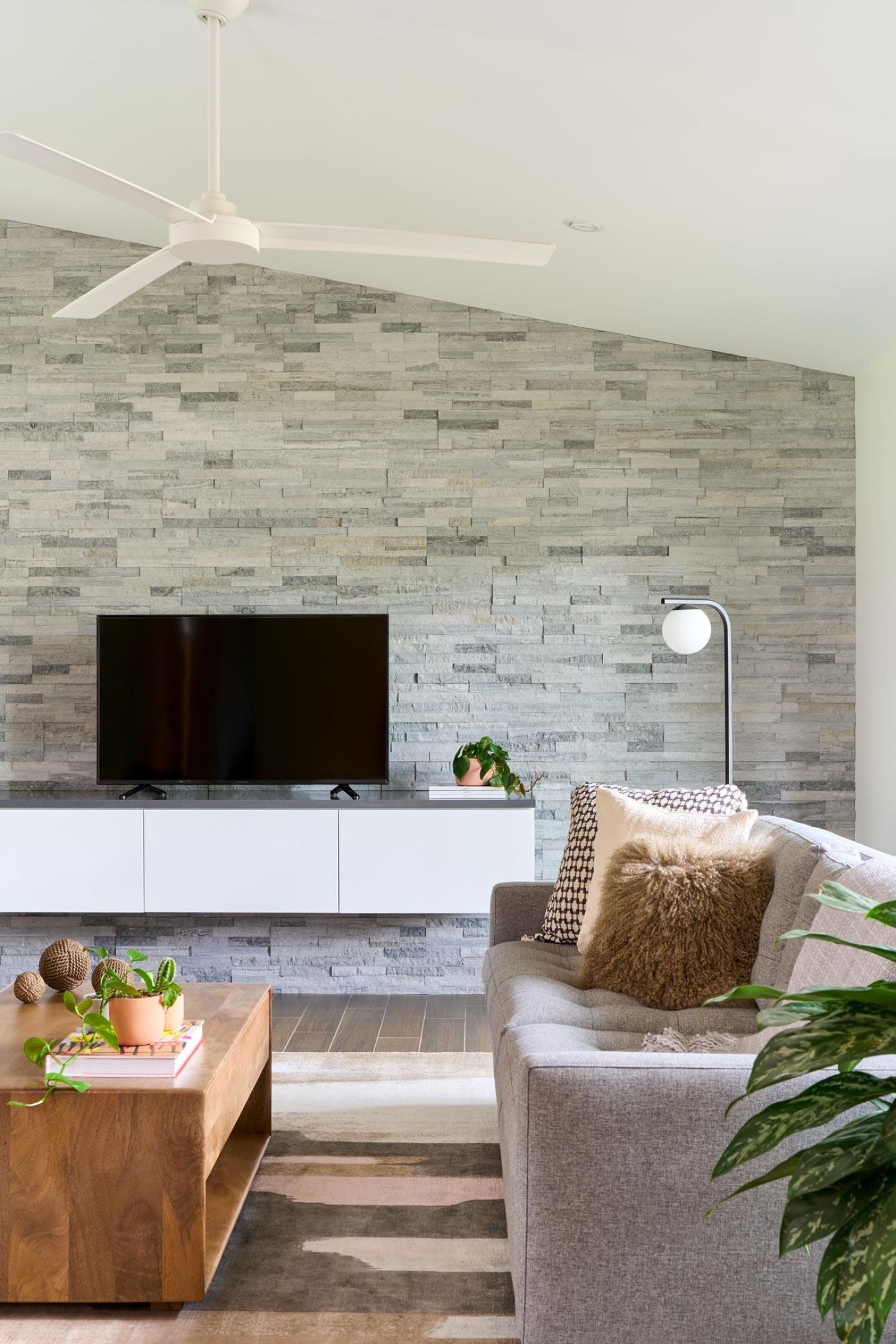 We found like so many others that we could adapt and persevere to move forward and complete the work. William first stepped into the new home at the project closeout; one can hardly imagine a better feeling than coming to a new city with a beautiful new home—just blocks away from family—that was custom designed to the last detail to begin a new phase of life after a challenging year.
Family Room & Outdoor Living