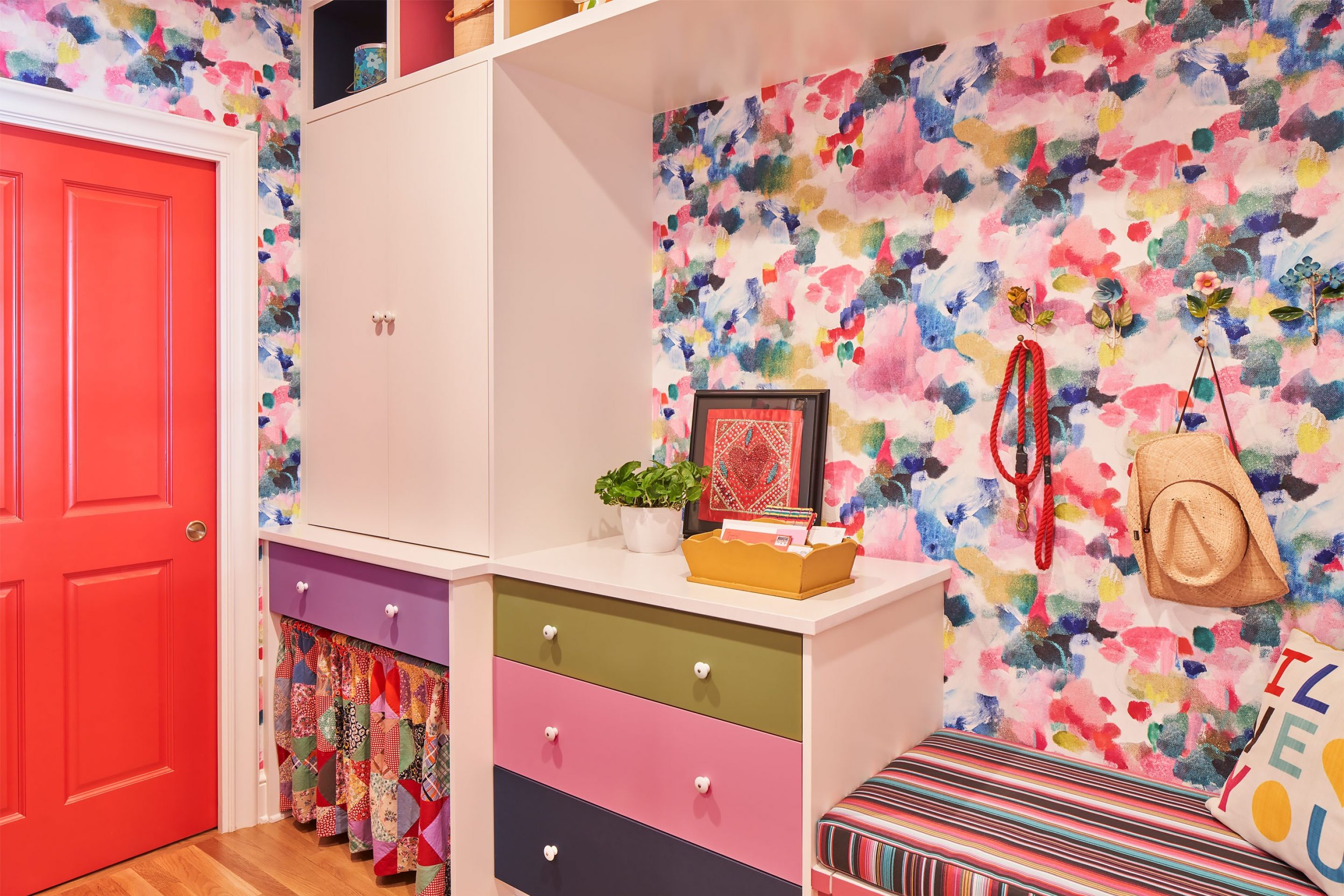 Rollingwood Color Masterclass
Featured on the Austin NARI Tour of Remodeled Homes & Tribeza Interiors Tour 2023
Paint colors & finishes by ColorGenie in collaboration with CG&S interior designers
"The happiest house in Rollingwood." That's how we refer to this bright, colorful home located in Austin's Rollingwood neighborhood. It certainly stands out against the Texas Modern homes that are popping up around it. And it's distinct from the other (original) mid-century homes Rollingwood is known for.
Instead of strong horizontals, the home was originally a squarish box perched upon a hillside, with a large, inviting front porch and small level two. Our client Genie—who works as color consultant ColorGenie celebrating the chromatic spectrum—painted the facade indigo, avocado, scarlet, and pink.
landscape design by Bob Anderson
Benjamin Moore "Silver Song" ceiling paint, "Jet Blue" siding paint, "Winding Vines" railing paint
Sherwin Williams "Lovable" front door paint, "Windfresh" trim paint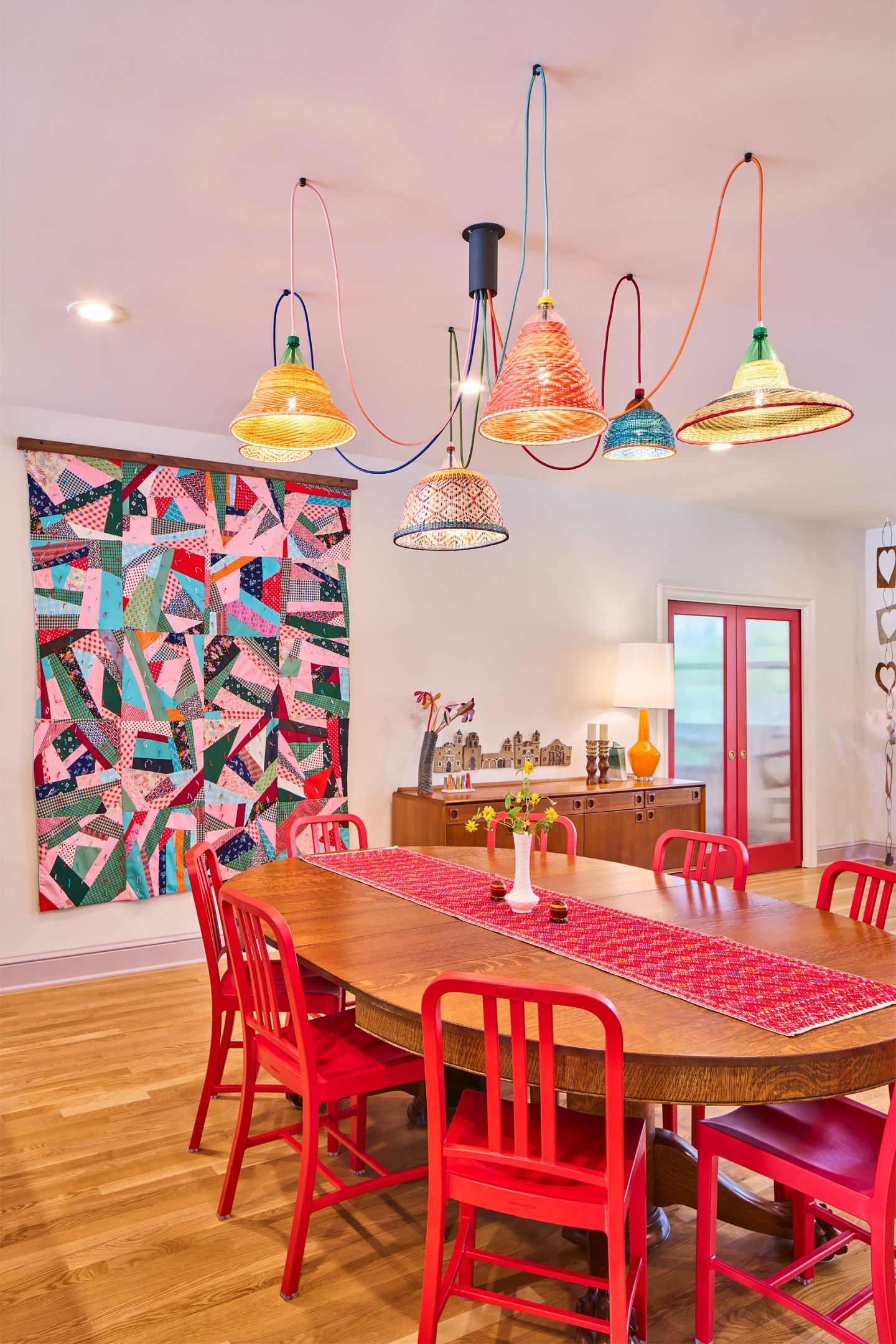 Her love of color started with the vintage textiles introduced to her by her mother. And it was a specific 1970s quilt that inspired the renovation journey her and her husband have been on for the past several years.
quilt: Genie's personal collection
chandelier from Goodee
chairs: 111 Chair by Emeco
vintage table & console
Benjamin Moore "White Dove" paint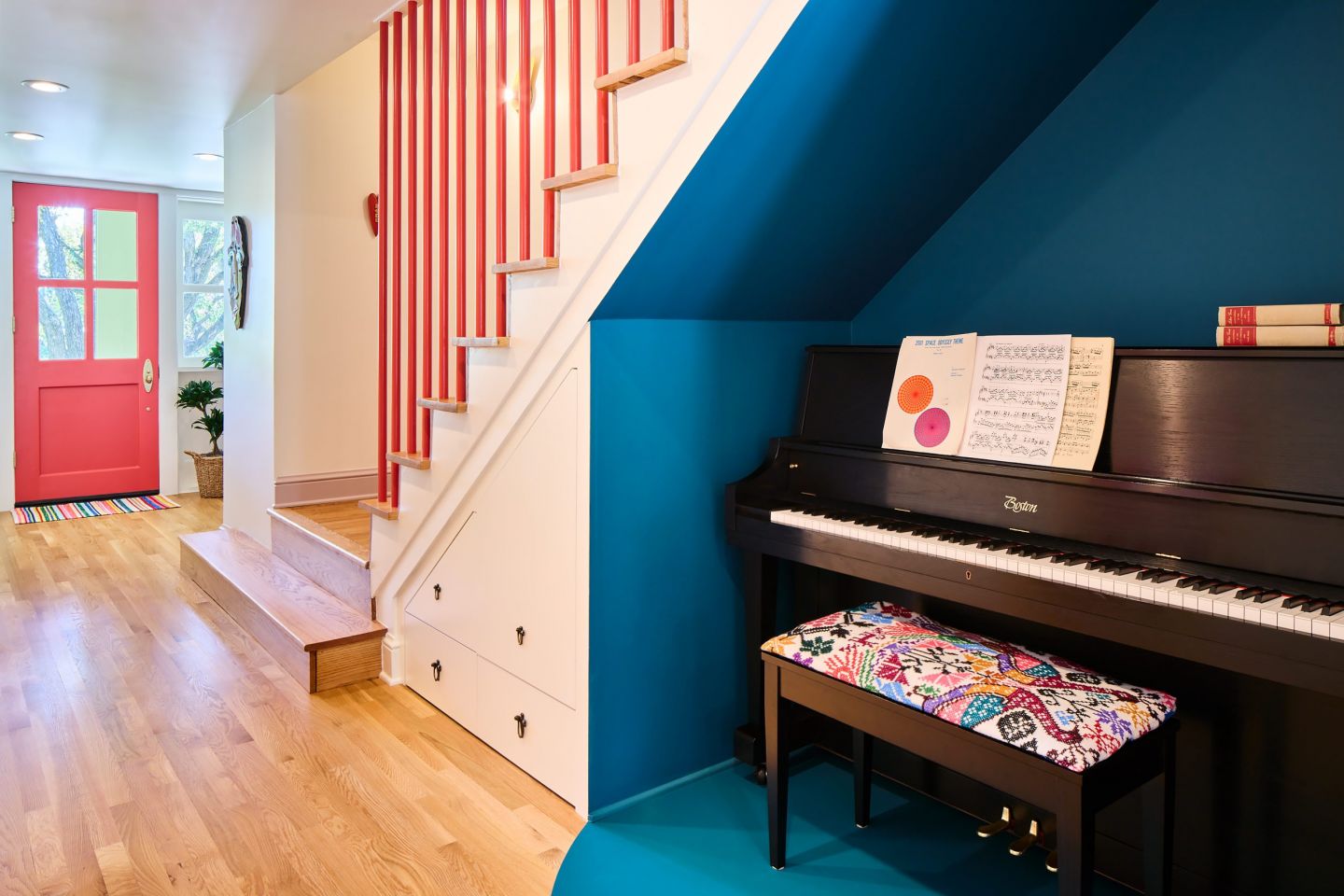 Genie and Randy approached us to do a whole house renovation, new outdoor living and pool, and a third story "crows' nest" to enjoy the downtown view. There are so many wonderful details about this house. The first thing you notice when you enter is the striking stair in the multi-color hallway.
niche paint: Sherwin Williams "Really Teal"
stair screen paint: Sherwin Williams "Gypsy"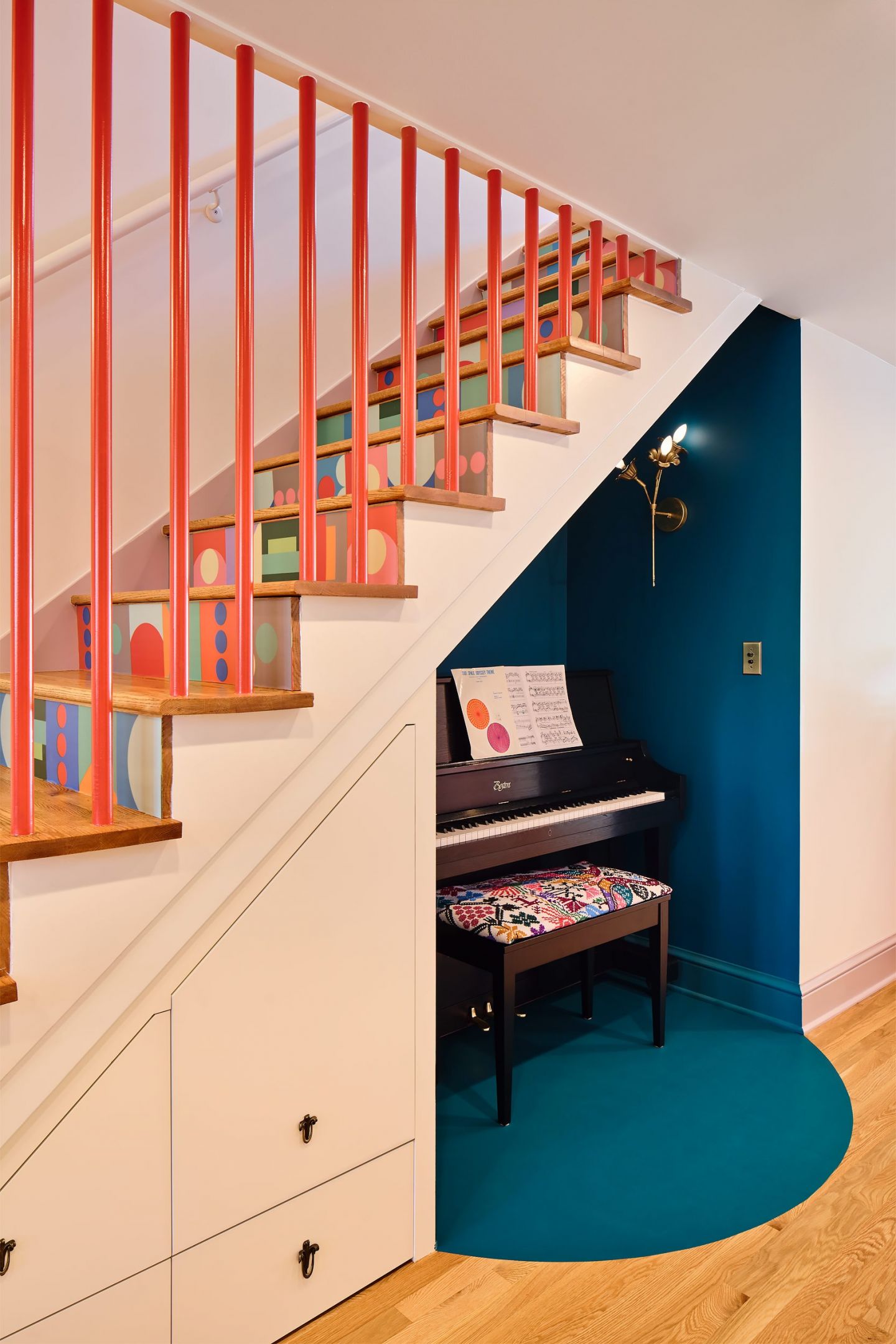 The stair features red spindles and patterned treads while the doors leading to the guest rooms and primary bedroom are painted various colors in sequence.
stair riser vinyl: Faye Jennifer Designs
niche light: Sazerac Stitches
cushion fabric: Jane Martindale
hardware: vintage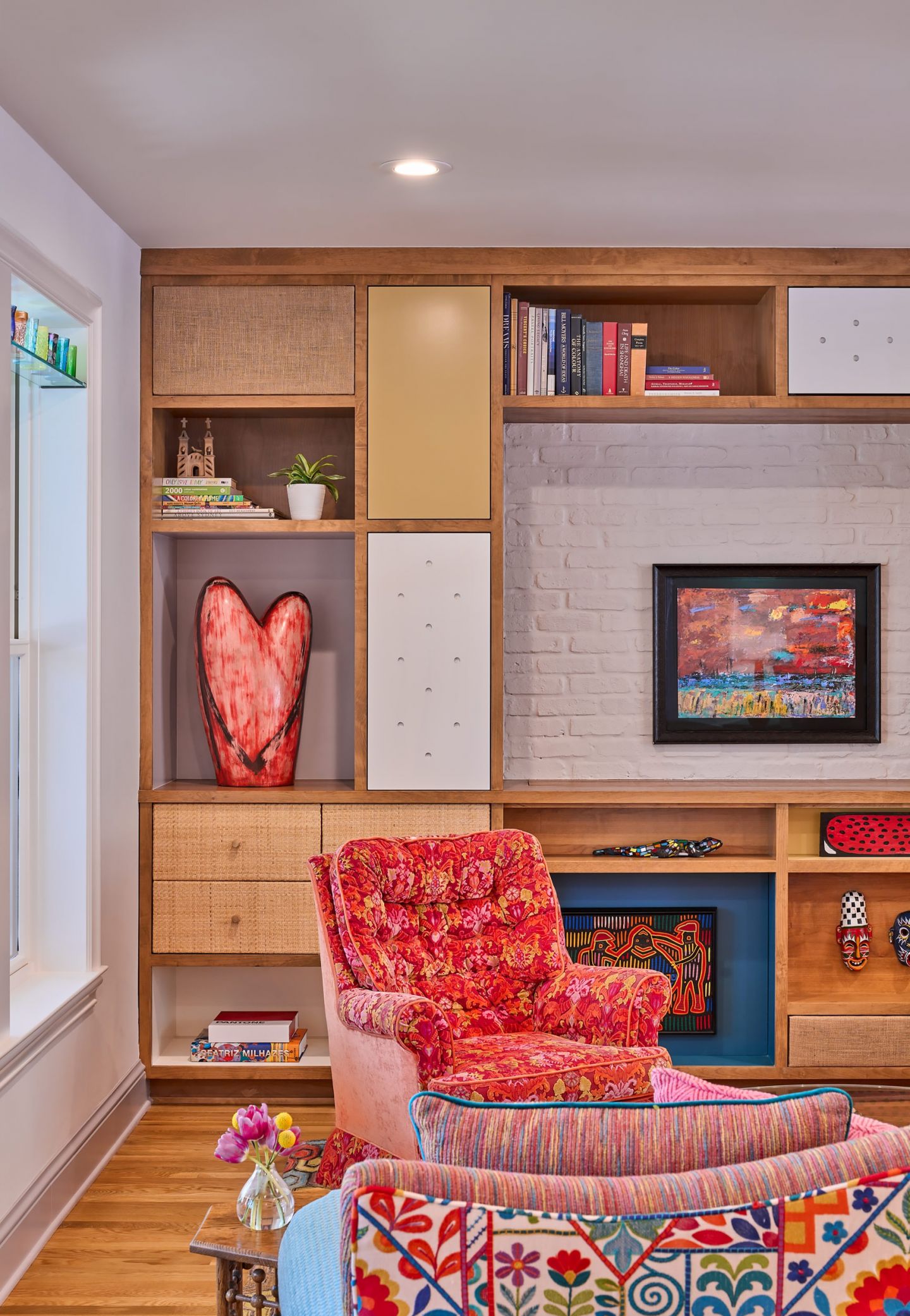 The new living room has built in cabinetry outfitted with vintage fabric. Genie's furniture is also reupholstered in bright and fun hues. A unique hand-made chandelier comprised of plastic bottles and baskets hangs in the dining room.
ceiling/wall paint: Benjamin Moore "White Dove"
furniture: vintage, reupholstered by Jane Martindale
fabric advisor, procurement by Jane Martindale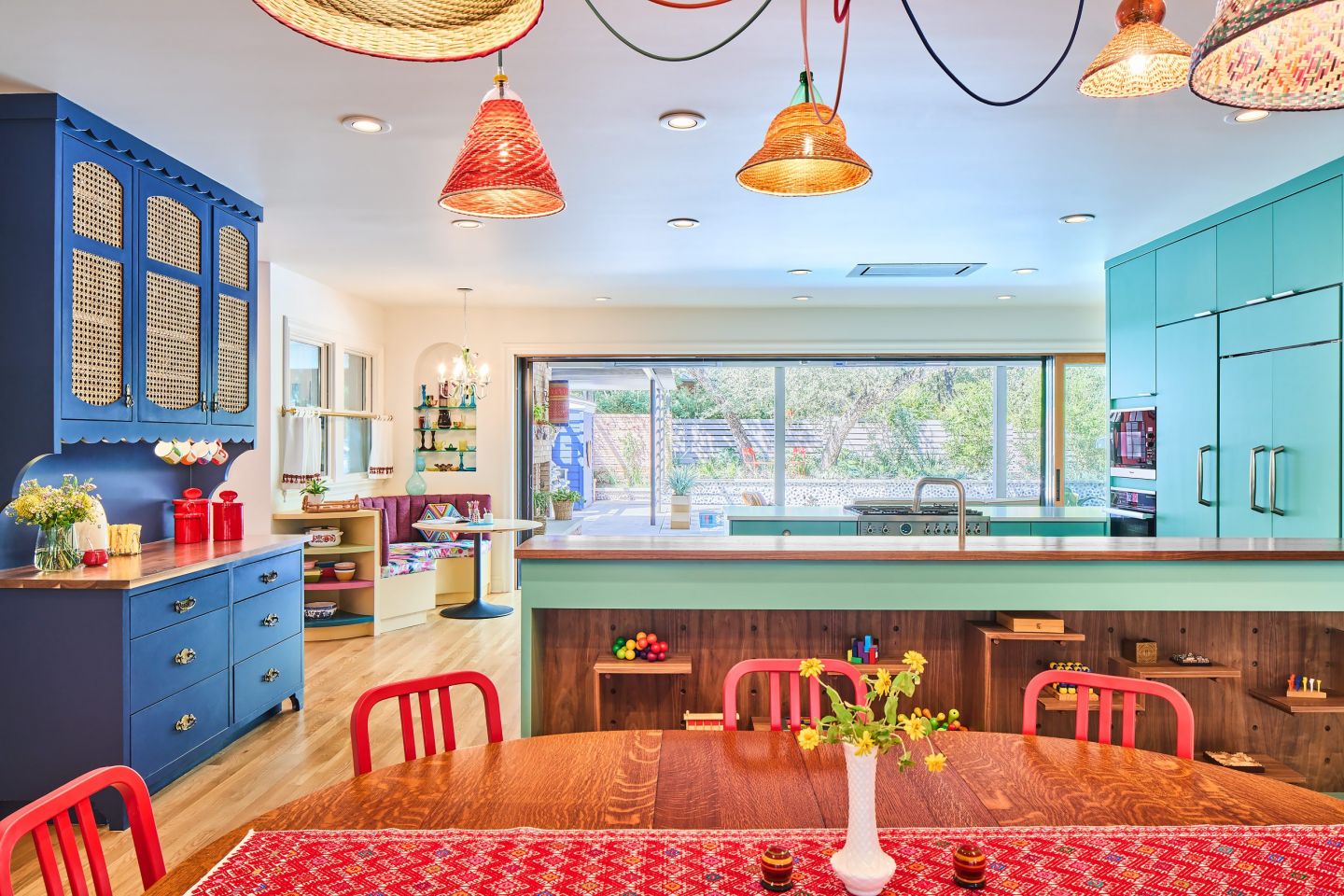 The previous kitchen and hall spaces have been opened up, the kitchen relocated, and new, large multi-sliding doors open to the new covered patio, pool, and outdoor kitchen.
cabinet paint: Sherwin Williams "Composed"
hutch paint: Sherwin Williams "In The Navy"
banquette paint: Sherwin Williams "Beeswax"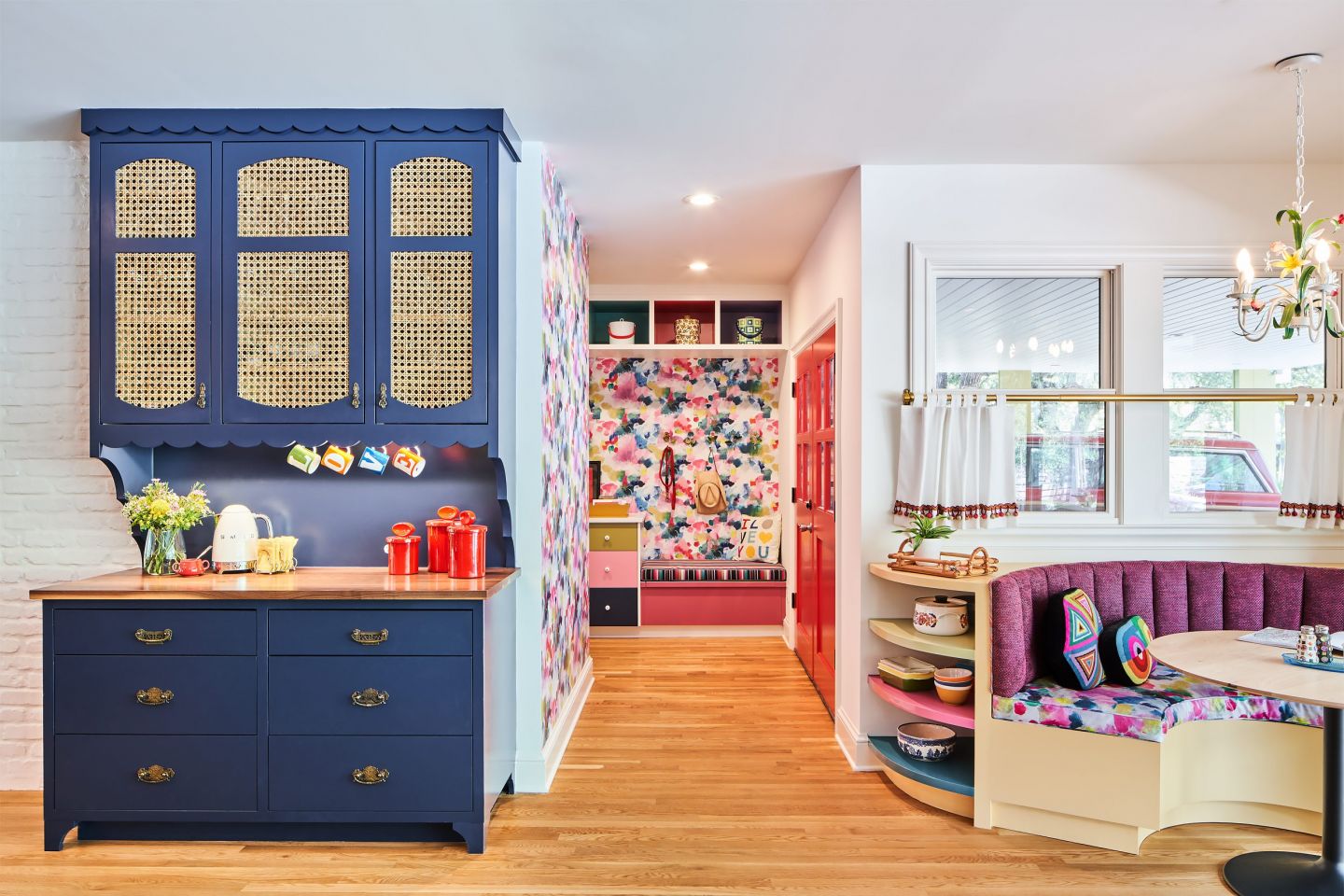 There's a banquette tucked in the corner inspired by the restaurant Randy grew up in, and the new mudroom and laundry is painted in an array of cheerful colors that play off a section of graphic wallpaper.
hutch paint: Sherwin Williams "In The Navy"
banquette paint: Sherwin Williams "Beeswax"
banquette upholstery by Plush Home Fabric
curtains by Jane Martindale
vintage banquette chandelier by D&W Lighting
vintage hutch hardware
entry door paint: Sherwin Williams "Gypsy Red"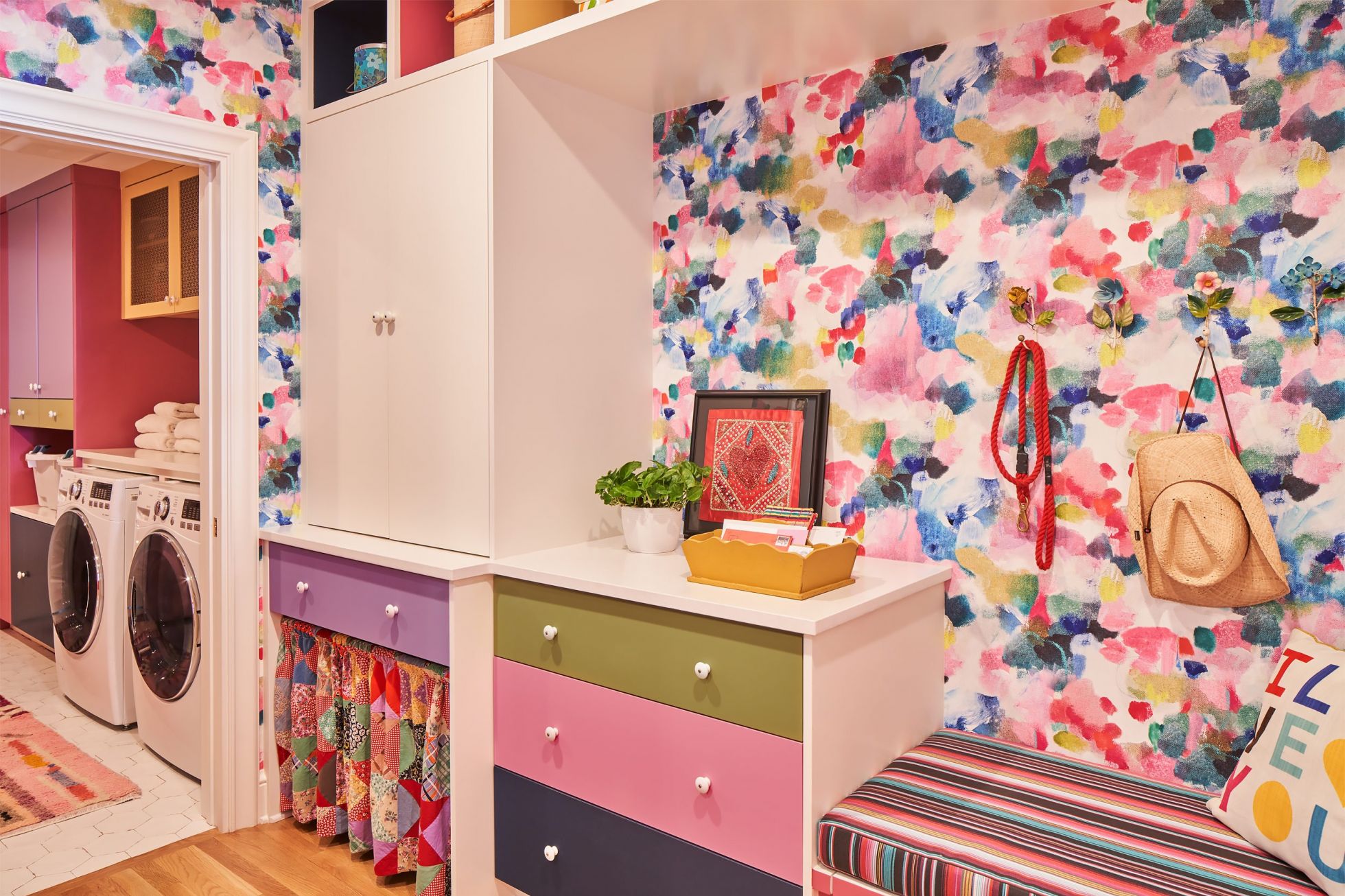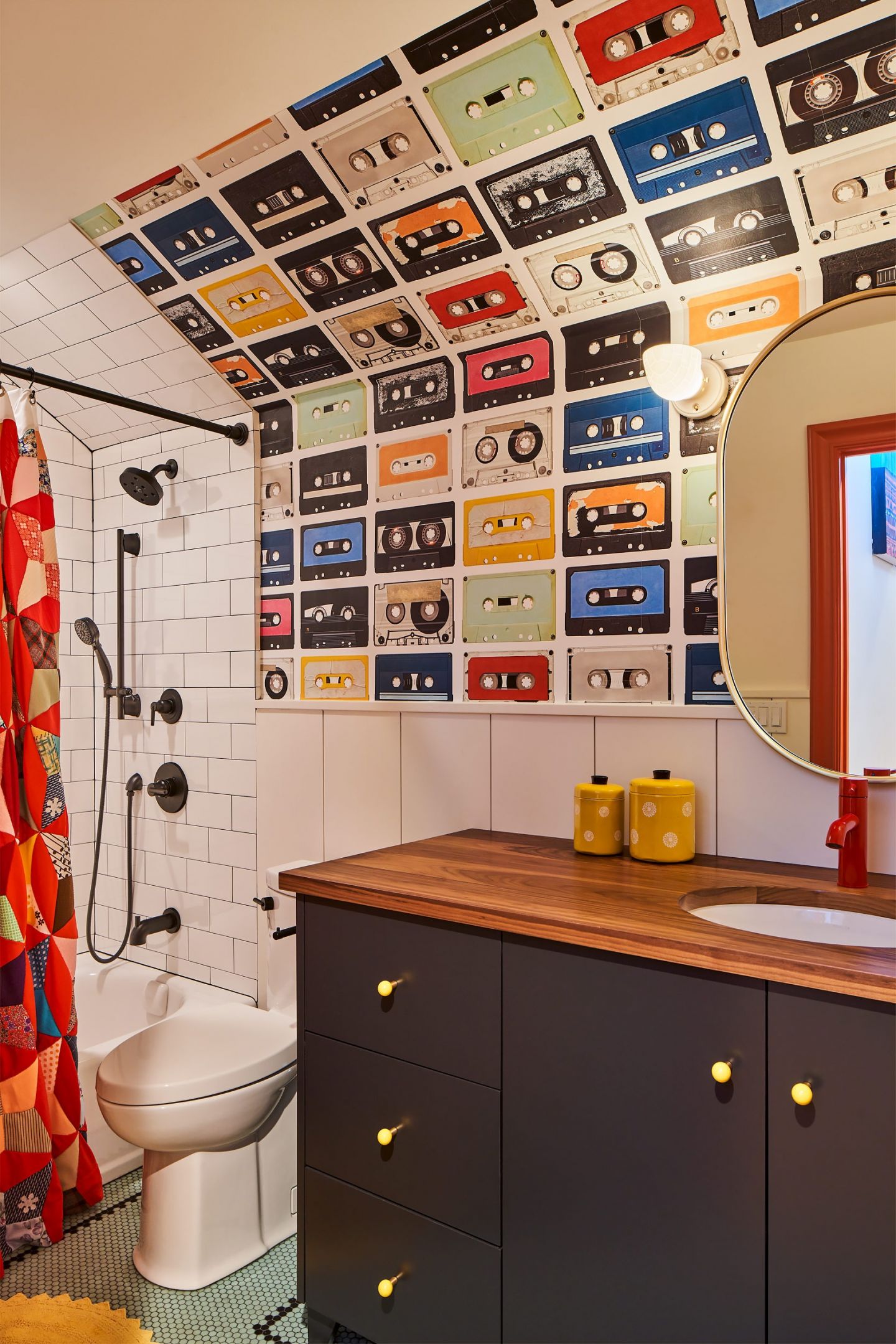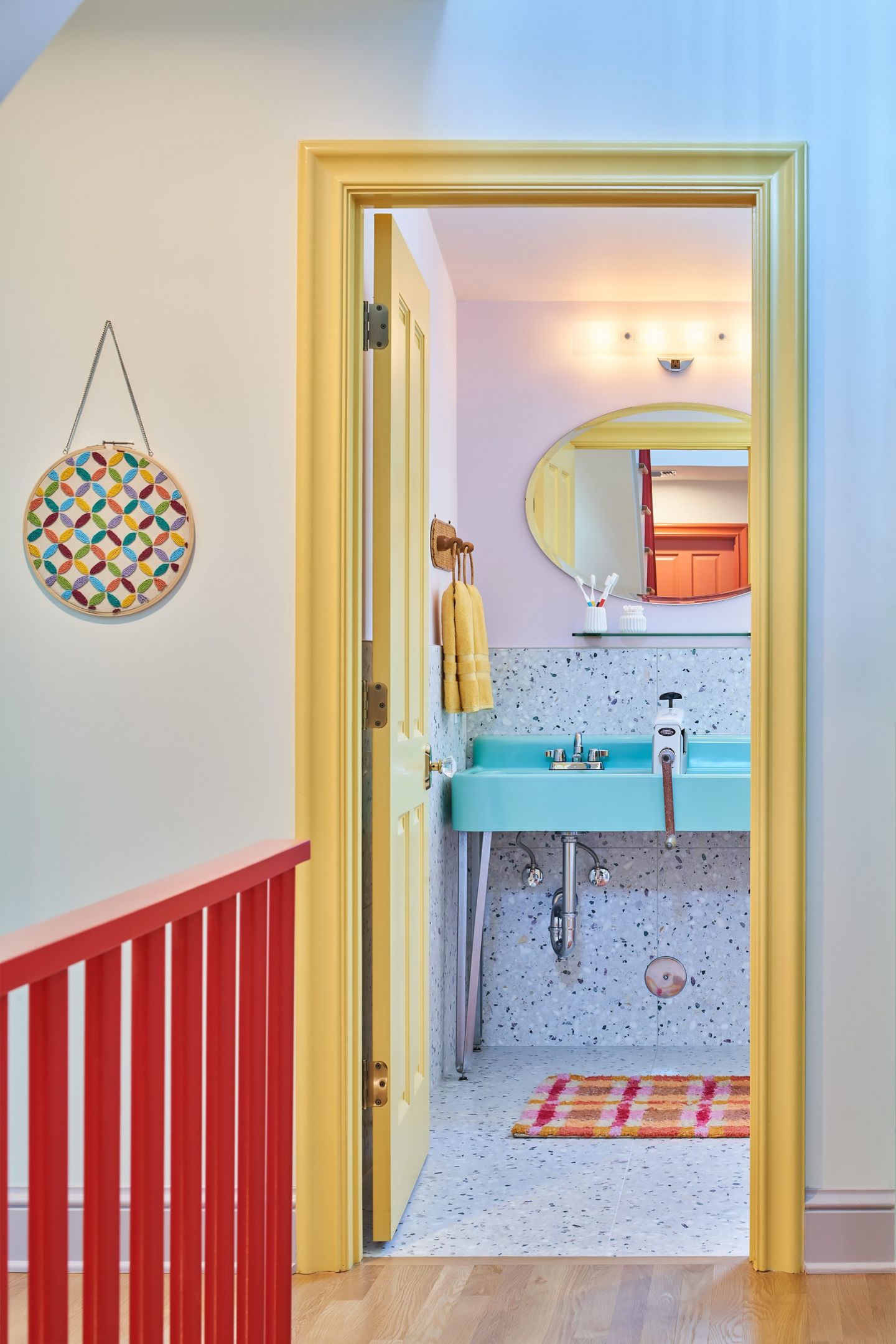 Two unique bathrooms bookend level two. The first is the "Cassette Tape Bath", named for its playful cassette tape wallpaper and floor tile that spells out the Journey lyric "Don't Stop Believin'". The opposite bath features a vintage laundry washing table Genie thrifted, now retrofitted as the vanity sink. Terrazzo tile surrounds the sink and adorns the floor.
Mixtape Bath
wall paint: Benjamin Moore "White Dove"
vanity cabinet: Sherwin Williams "Tricorn Black"
"Mixed Tape" wallpaper from Rebel Walls
hardware by Sazerac Stitches
vintage shower curtain fabricated by Jane Martindale
vintage light fixtures
Contempo Single Hole Faucet by Jaclo Industries
Verticyl Oval Undermount Sink by Kohler
shower wall tile by Interceramic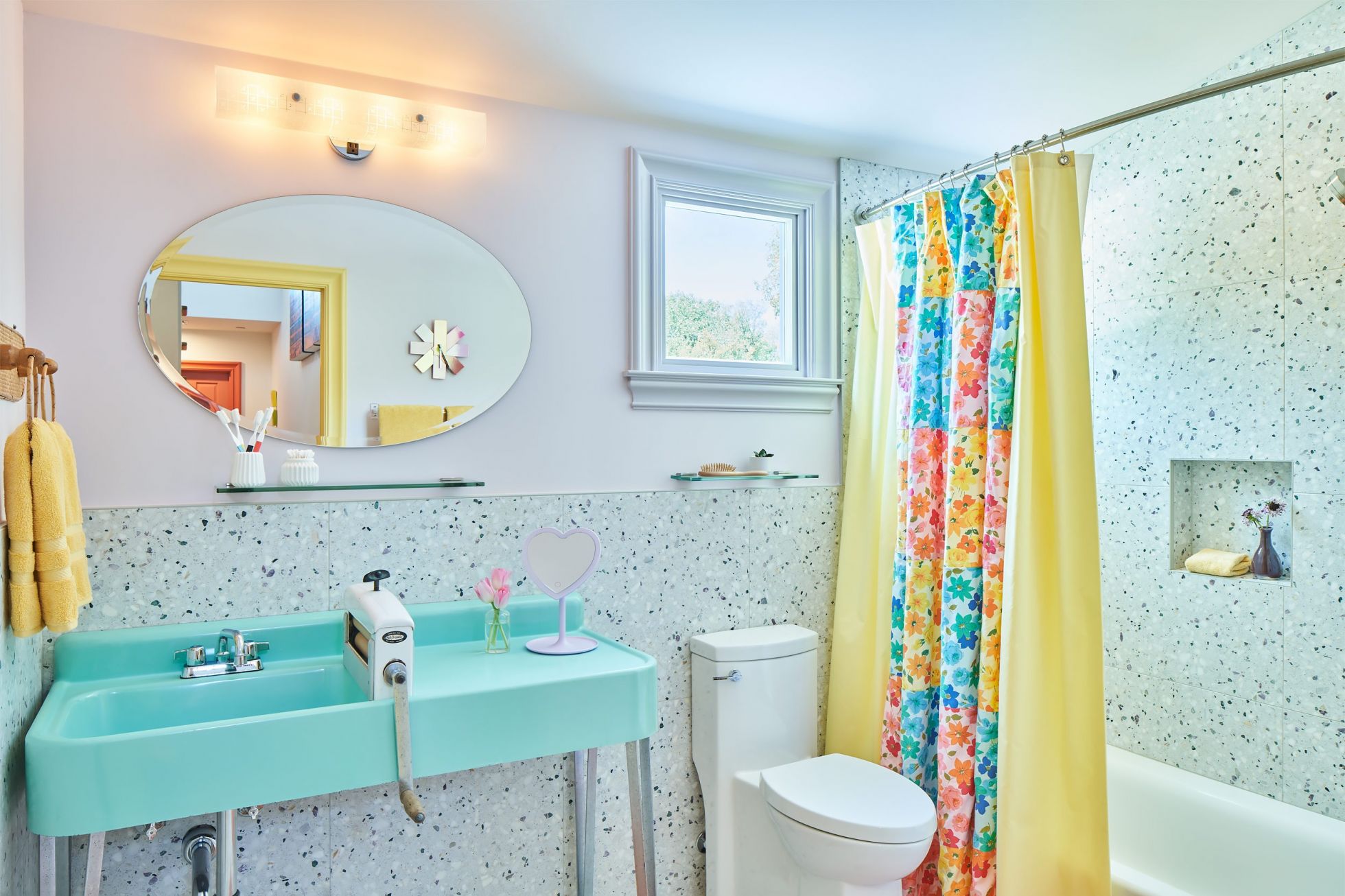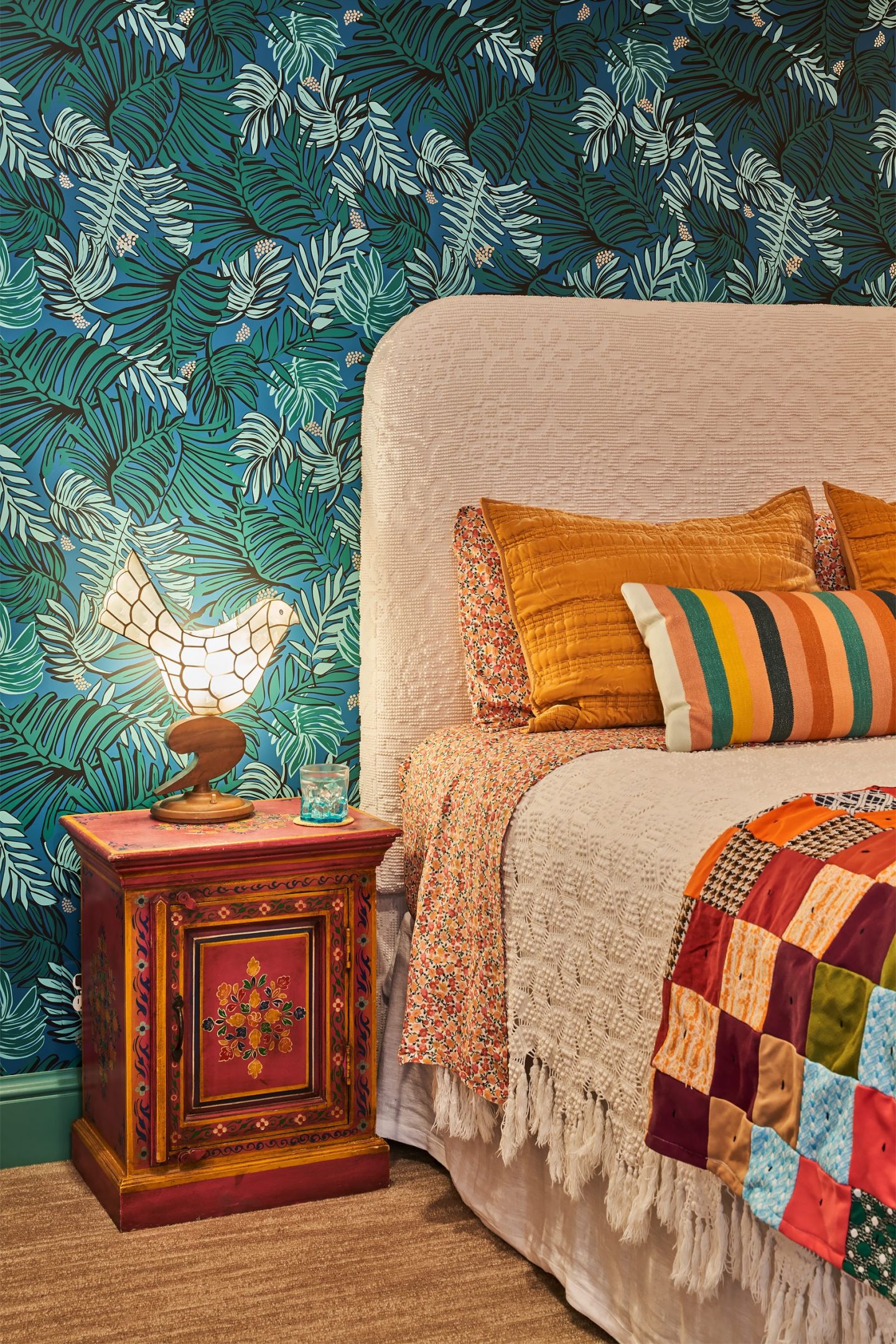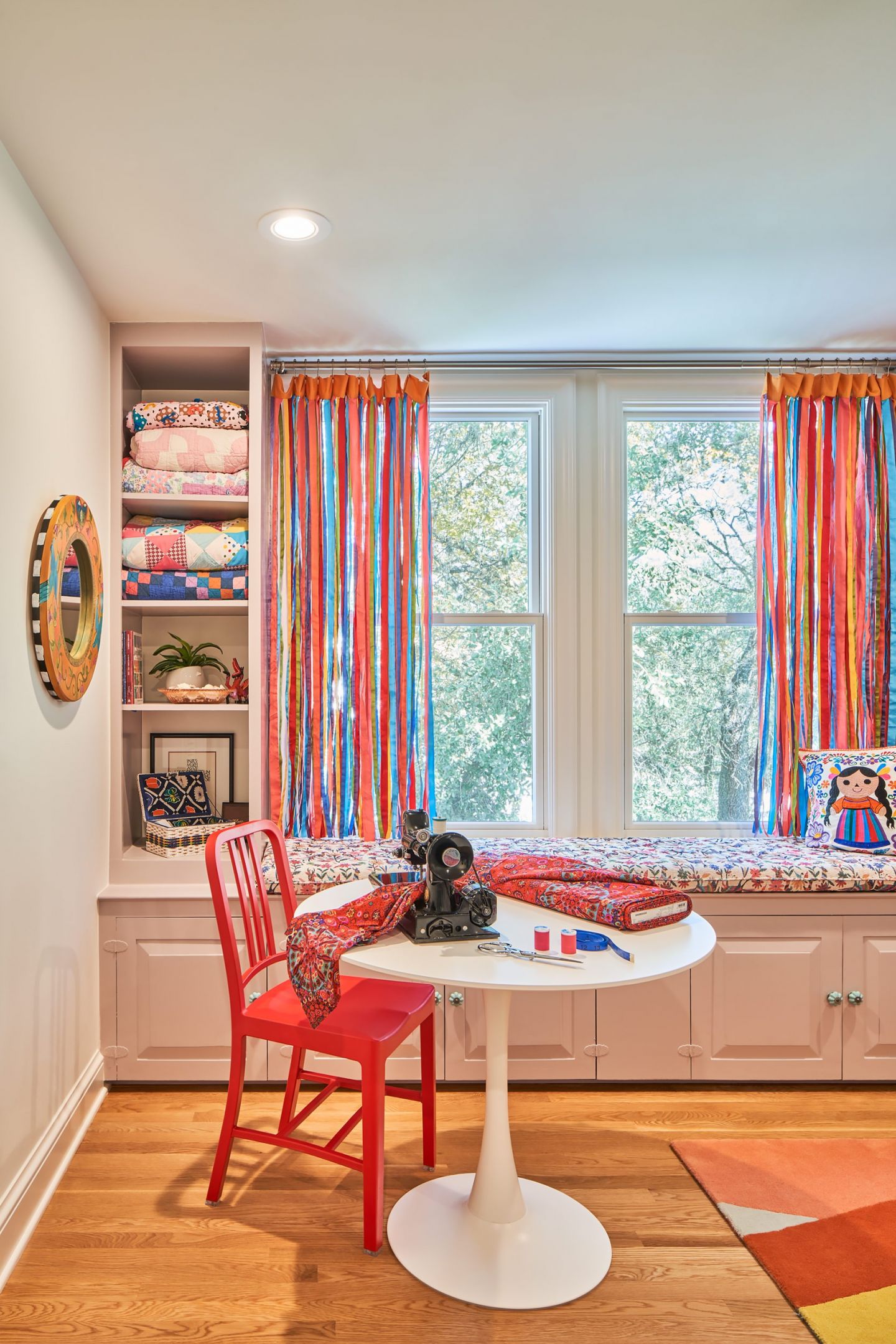 The second level also features a richly hued bedroom and Genie's crafts studio, as well as Randy's office painted a handsome blue with Missoni inspired carpet and a murphy bed with its own hidden details.
Guest Bedroom
Jungalow wallpaper
vintage furnishings & lamps
vintage bedding & headboard
Fabrica Valerio Bandstand carpet
ColorGenie Office
Benjamin Moore "White Dove" wall paint
CB2 rug
AllModern Tulip Table
"Managerie" bench fabric by Fabricut
vintage draperies
fabric procurement by Jane Martindale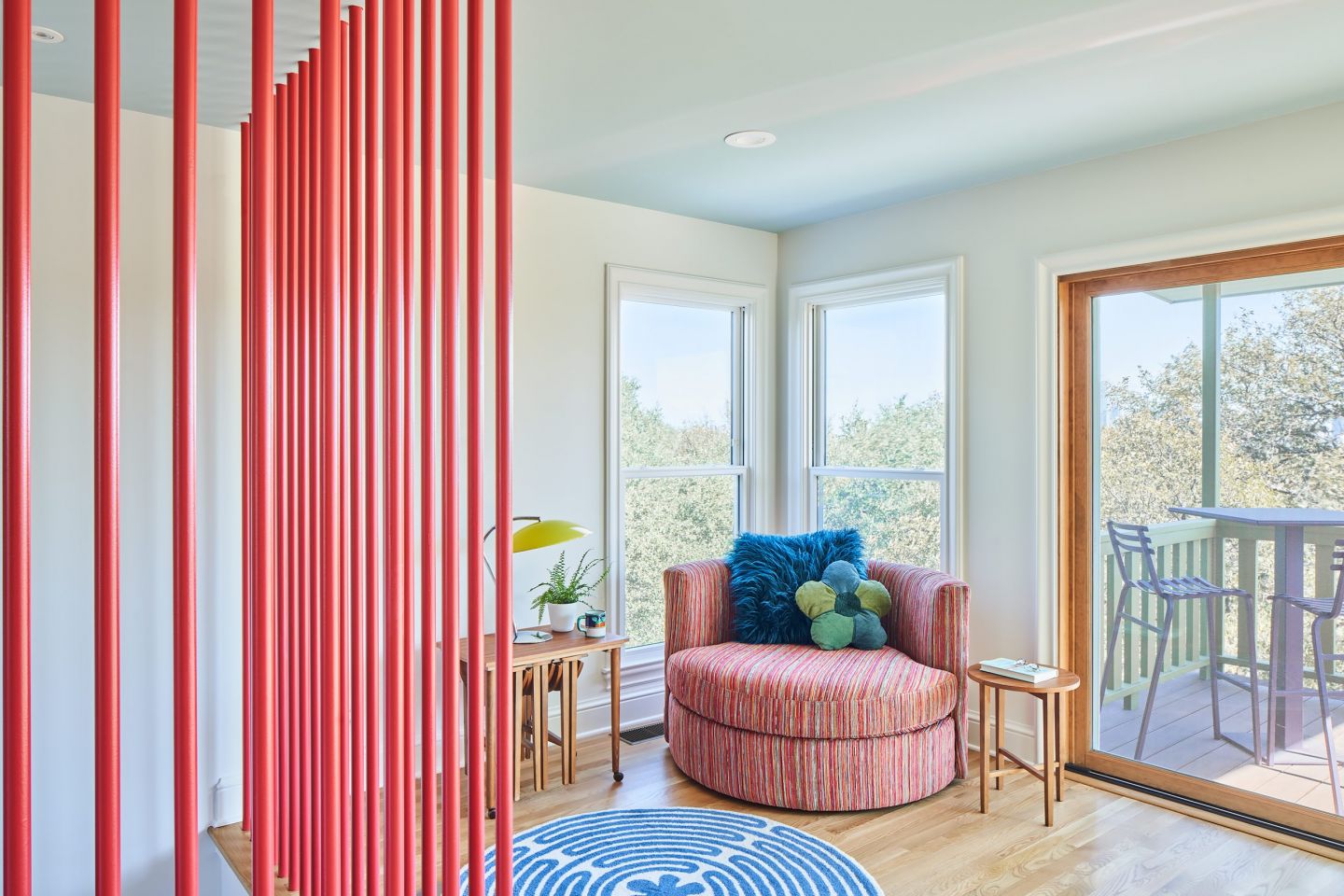 Level three is purposely simple. The walls are white. There is no wallpaper or fun tile. The standout of the space is the stair spindle detail that rises from floor to ceiling defining the full extent of the well, creating a snappy screen of red.
Benjamin Moore "White Dove" wall paint
Benjamin Moore "Silvery Blue" ceiling paint
Collectic Home swivel chair
Ferbo outdoor furniture
vintage furnishings
A Rare New Build Tuned To A Classic Austin Neighborhood