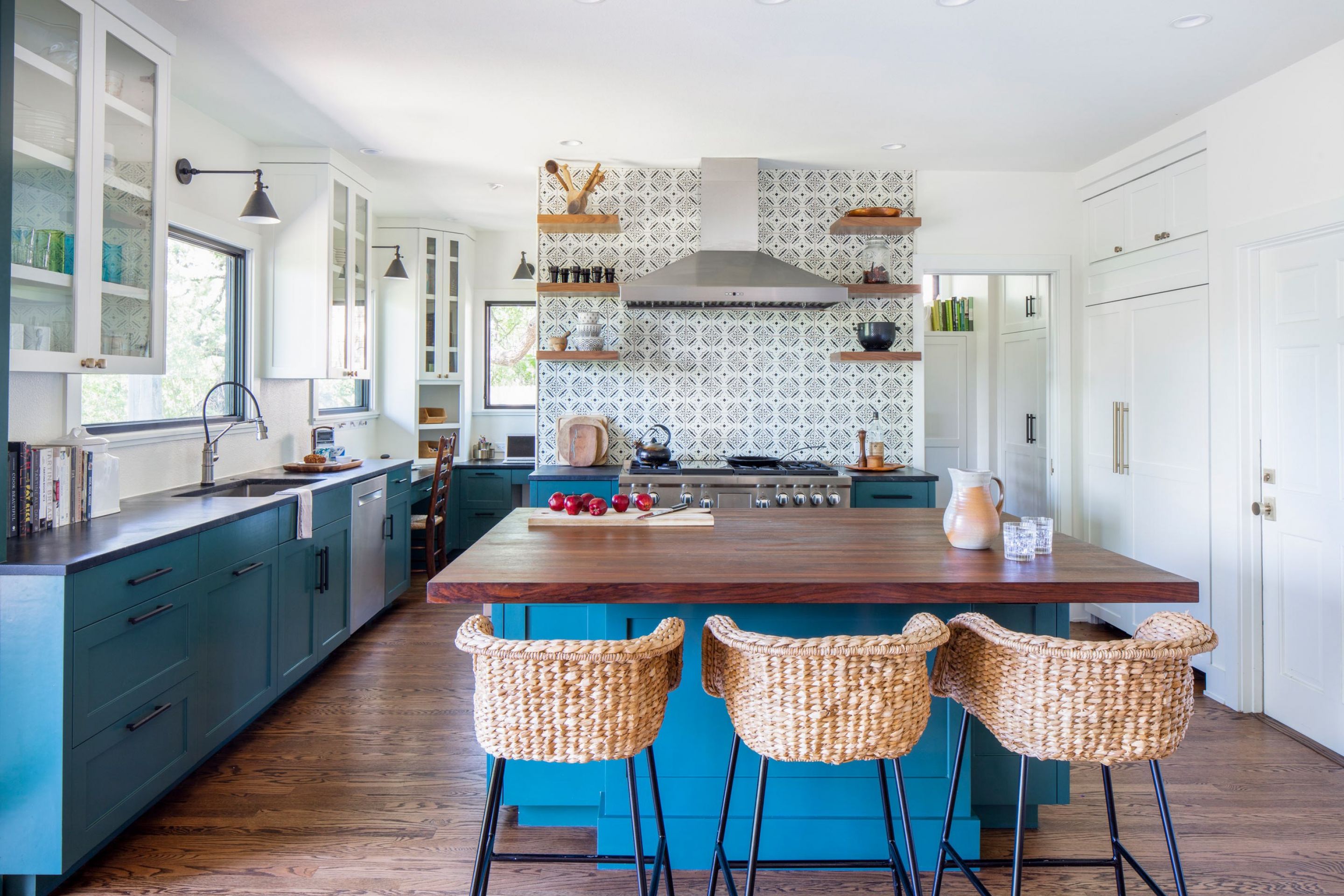 Lost Creek Kitchen Remodel
With Future Outdoor Living Preview
Another by-now-classic remodel where we opened up a kitchen to rejoin the rest of a family's common living space. We also added a full array of new storage options in the back-kitchen—along with study space—and plans for outdoor living enhancements now in the works!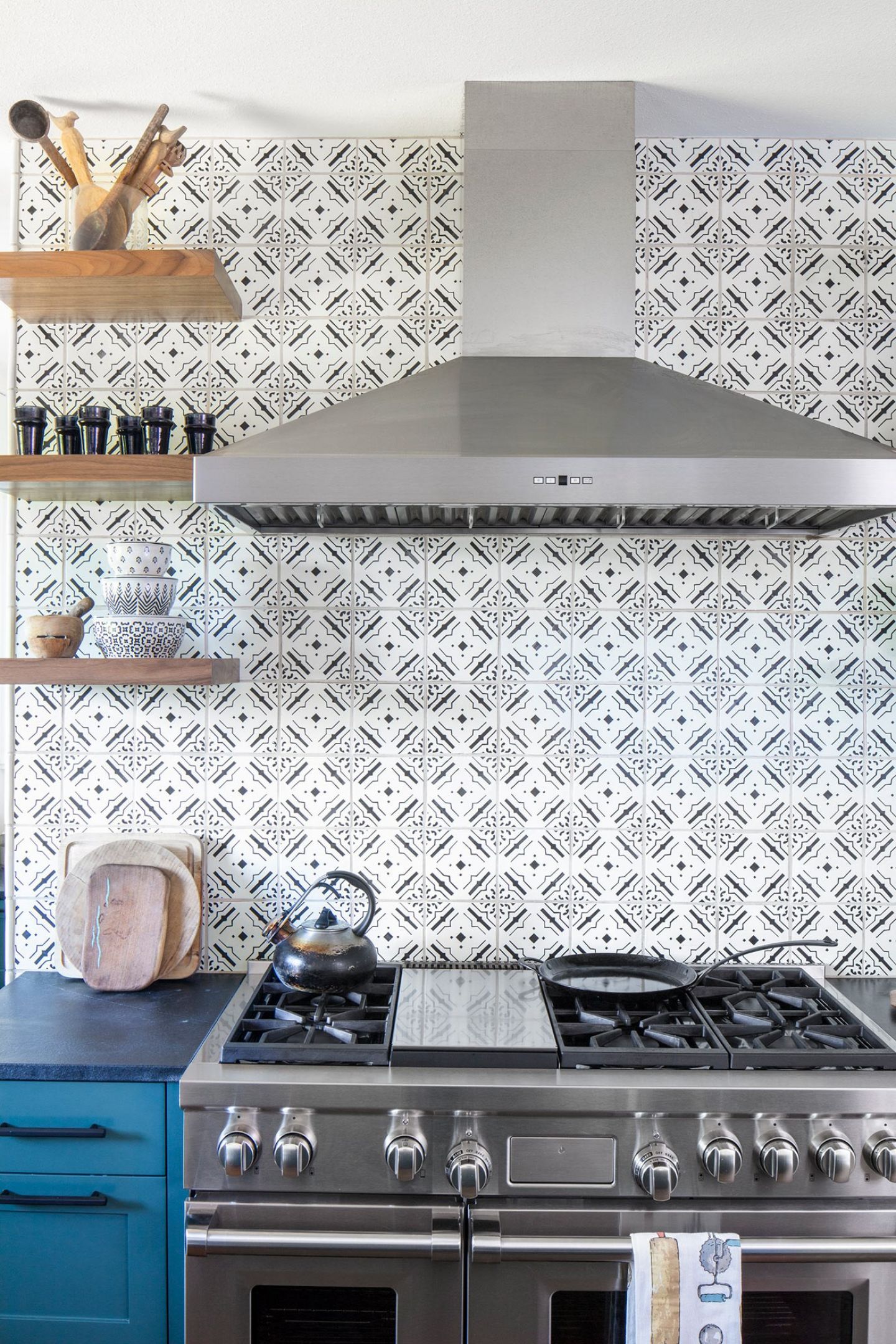 The most important goal for this renovation was to keep everyone together. Mom's an avid cook and wanted her kiddos to become more involved with meal preparation. So, the wall hiding the kitchen came down, freeing the space and giving it permission to express itself.
Anchoring the kitchen is a new central butcher top island capable of seating the family, with the walnut top adding warmth. Taking a cue from the home's original color scheme, the turquoise hue of the shaker base cabinetry contrasts with bright white upper cabinets. Black soapstone perimeter counters tie in with the hardware, pendants, and sconces. The new 6-burner range is the focal point of the kitchen with floating walnut shelves and hand painted tile backsplash. And unlike the previous kitchen, every appliance has its home and some, like the refrigerator, are built into the cabinetry.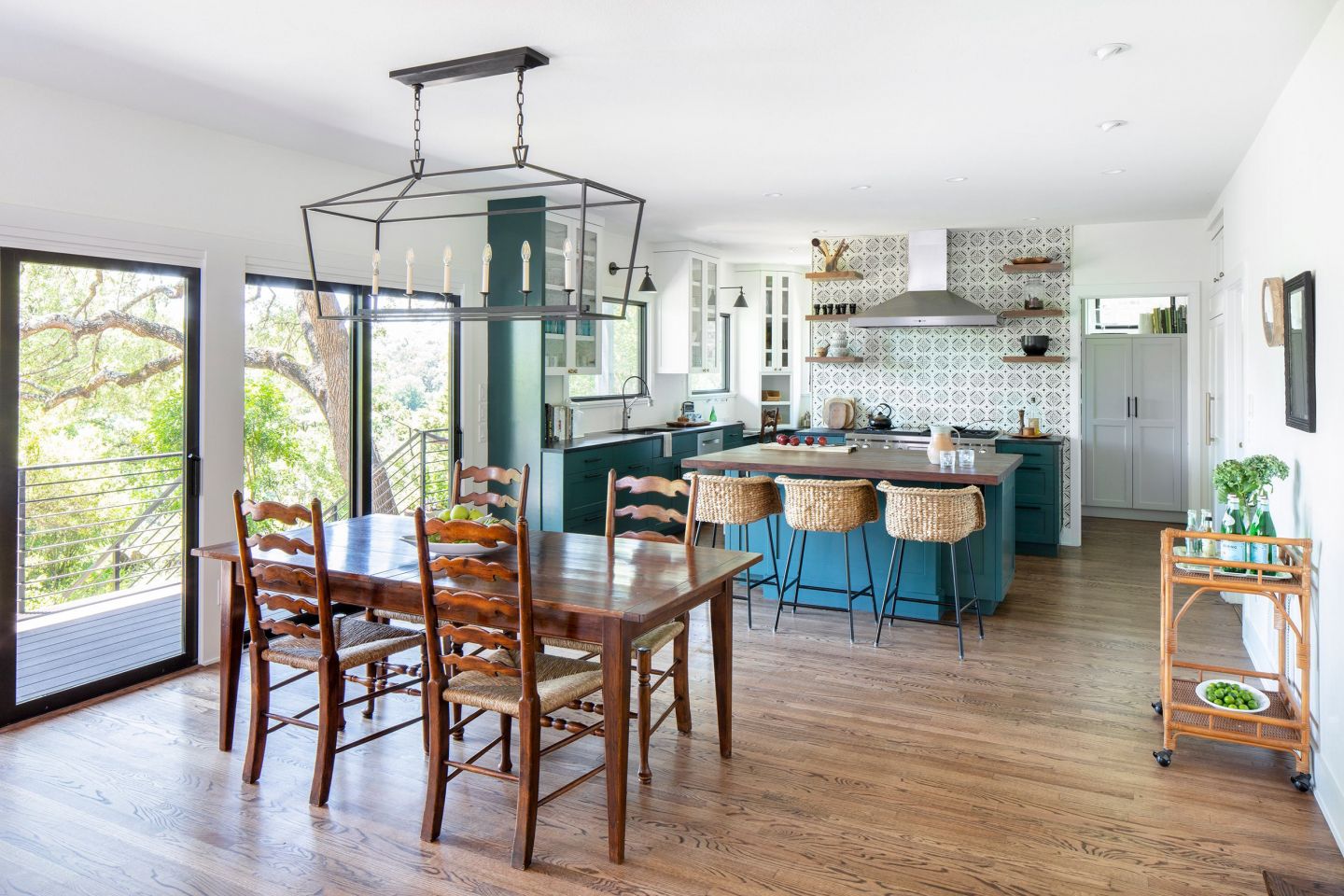 More Light, Please!
We removed the original punched windows and replaced them with a series of four large sliders. Now the dining table and island are awash with natural light from the outdoors. The dining pendant was selected for visual transparency, so as not to block the view.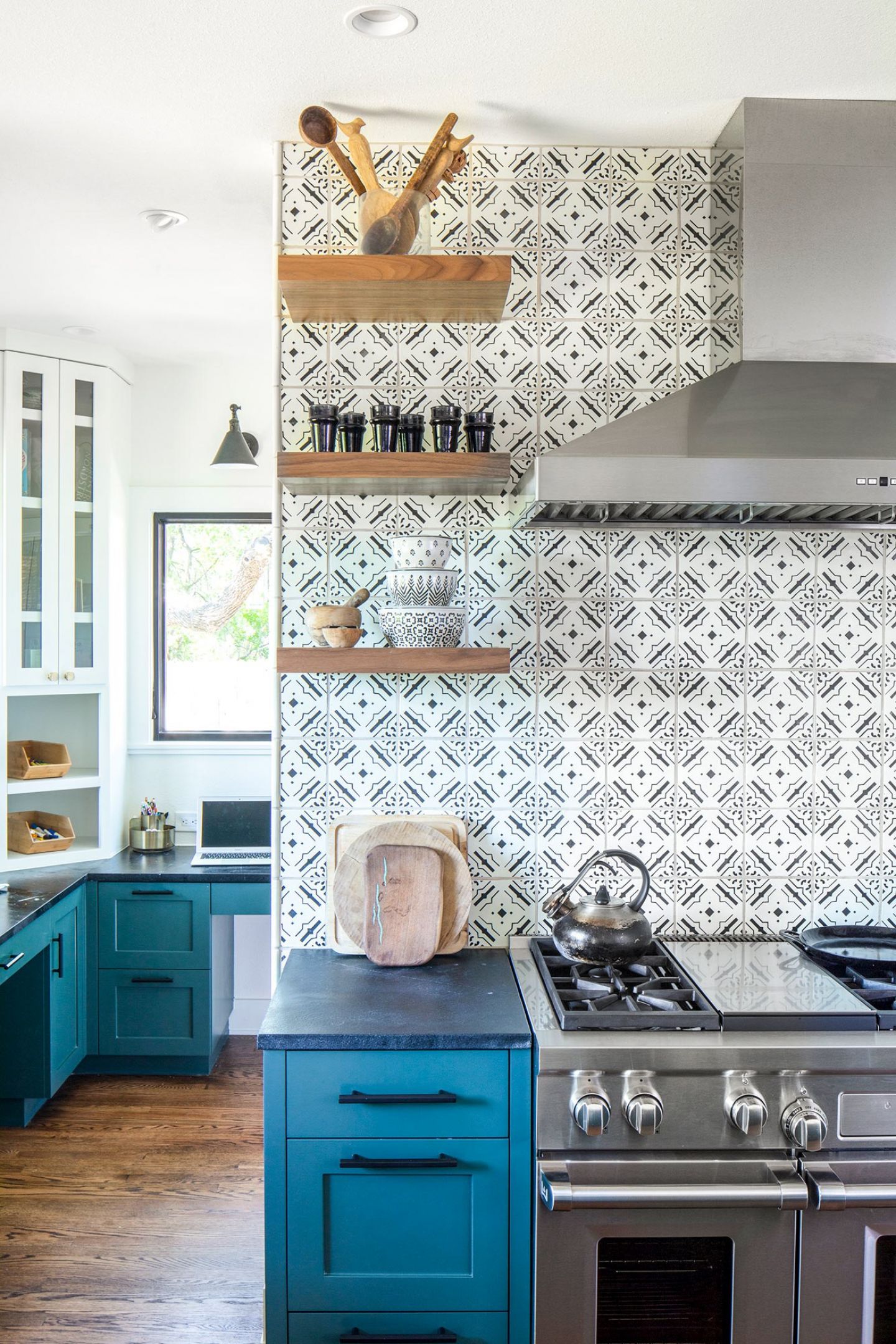 Back-Kitchen
Peek around the decorative tile range wall and one is greeted by a surprise: an all-new study corner for the kids, each with a built-in desk. Kitchen support is also concealed behind the central tiled wall. This backup space has plenty of storage for large platters and serving dishes, a wash sink, dog equipment, and utility closet. During a party or event, this support space can be closed off completely with pocket doors, hiding away clutter.
Phase 2: Living Indoors & Out
We are currently finalizing design for the next phase of this project: family living space as well as outdoor living and cooking. Here are some views of how the project is shaping up, as made possible by 3D renderings of the design scheme: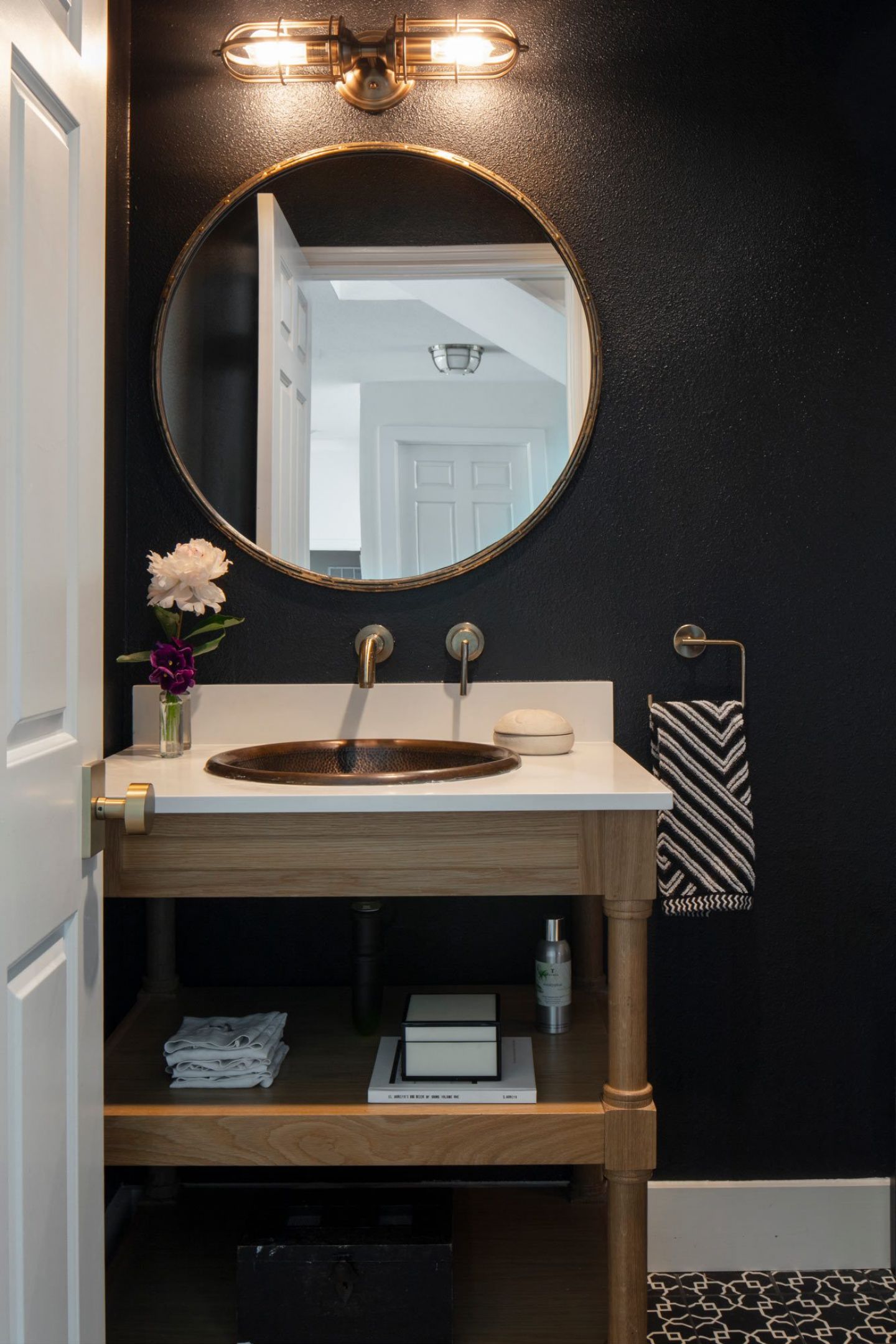 Scope Vs Space
Many family functions and program requirements had to fit into existing interior space, without adding an addition. The solution was to both double up functions and to design the entire kitchen, dining and support spaces like an interlocking puzzle of built-ins. With pocket doors incorporated to eliminate door swings, and multiple windows aligned with aisles to allow distant outdoor views. The entire space was conceived of like an airstream or boat interior, with every square inch of wall and floor assigned to functional cooking counters, specific appliances, storage cabinets, study desks and dining surfaces. In this way, the majority of the family's goals were achieved.
Anemic Outdoor Facilities Upgraded